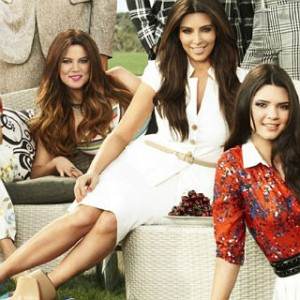 On the second episode of Keeping Up With The Kardashians, Kourtney is holding on to resentment against her mother and it's painfully obvious to everyone. Kourtney and Kris meet for lunch. Kourtney is a bit hostile with her mother. Kris thinks her family has been rattled by her book and it shows.
Kim meets Kourtney for lunch. They discuss DASH business, and Kim says their mom wants to see the new location. Kourtney admits she doesn't want her to go, and admits that Kris book bringing up all these old painful stories is hurtful all over again. Kim suggests she talk to Mom about it. As is typical for Kourtney she refuses, saying she's 'over this convo'. Kim tells Khloe about the friction, that Kourtney is angry all over again with their mother for cheating on their father and causing the divorce. Kim also feels Kourtney resents her for going through a divorce and thinks Kourtney just has a problem with people who divorce. Khloe wonders why Kourtney thinks having kids with Scott but never marrying him makes her better than their Mom. Kourtney could easily leave Scott one day and it doesn't make it okay just because they aren't married.
Kris gets younger girls Kylie and Kendall a gig with Seventeen Magazine to discover young model hopefuls in Malibu. This means approaching strangers and the girls are a bit nervous. Kylie, the younger of the two throws herself into it while shy Kendall hangs back. Afterwards, Kylie tells her to get over her shyness because she's not being professional. Knowing she has to go back and out and work with her sister again, Kyle complains to Kim. Kim explains she was shy once too and recommends that Kylie recognize what their strengths and weaknesses are and work together. Kim offers to go with them on their next outing.
Kourtney hosts her first family dinner. When Kris thinks the handsome chef is flirting with her. Kourtney tells her she's odd inappropriate and embarrassing. Kris accuses her of being uptight and curses her. Kris is sick of Kourtney's digs and demands she come outside and speak privately with her. Kris tells her she's sick of her rudeness. Kourtney says she's the one who brought up all the family pain again. Kris says it a memoir and nothing was done to hurt the family. Kourtney still blames her for her actions of 25 years ago and says it's just nothing she would do. Even though Kris admits she made a mistake a long time ago and truly regrets it, Kourtney just can't relate to Kris's feelings and doesn't want to talk about it anymore.
Scott wants Kourtney to open up to him but she refuses. Scott admits it's frustrating that she can't share with him. On the other side, Kris tells Bruce what's going on. Bruce says to focus on the good memories in the memoir but Kris realizes Kourtney can't. She feels Kourtney thinks she will turn out like her mother. Kris just wants her kids to know that what happened, happened for a reason, that she wouldn't have Kylie and Kendall today otherwise. She has finally come to terms with her guilt over the affair but is devastated that Kourtney is still hurt by it. Bruce gives her a hug and some 'it will be okay'comforting.
On her next model scouting to find models, Kendall is nerve wracked especially with Kim there. Kim gives her encouragement and pushes her to try approaching someone. It's a bit awkward, but Kendall gets through it. Kendall finds out that after the first one, it gets easier.
Khloe suggests Kourtney seek therapy for her issues with their mom. Kourtney does so and unloads on the therapist. Kourtney has to realize relationships are not perfect and make the conscious attempt not to give her mother an attitude. She agrees to give it a try.
Kim, Kyle and Kendall plan revenge on Bruce for scaring them with a spider. Kim decides to put the ultimate fear in him by arranging to have her Ferrari stolen while Bruce borrows it. Kim enlists the help of Bruce's son Brandon. Since Bruce never seems to get upset by anything, Kim is hoping this will really scare him. Brandon makes plans with Bruce to go to a go kart place and they drive their in the Ferrari. Meanwhile, Scott and Kim drive to the parking lot and with her spare key Kim moves the Ferrari somewhere else. Scott and Kim then watch as Bruce and Brandon leave the place and can't find the car. When Bruce begins to panic, Scott and Kim zoom up and ask if he needs roadside assistance. Realizing he's been had, Bruce is relieved.
Kris buys Kourtney and expensive cradle. Kourtney thinks it's typical of Kris to try to buy affection and is not impressed. She refuses to open it, preferring to have a talk with her mother. Kourtney tells her about her therapy session. They have a heart to heart, and Kourtney agrees they should take their relationship in baby steps.
On the next Keeping Up With The Kardashians, Kim alters her appearance and Rob hurts Bruce's feelings. The next new episode airs on Monday, May 28 (ET) at 9 p.m. on E!