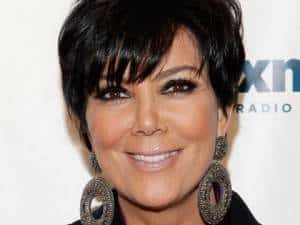 On this much anticipated episode of Keeping Up With The Kardashians, Kris '˜accidently'bumps into the man she cheated on Robert Kardashian Sr with many years ago. Kris admitted in her memoir to the affair, though she never named him. Todd Waterman outed himself soon after the book's release and it's no surprise he turns up on the show.
Scott likes to paint the town red, but being pregnant; Kourtney isn't up for it. She suggests that Kim go out with Scott because at least he can't get crazy. Kourtney arranges it and informs Scott. He is a bit surprised but agrees.
Kris is playing tennis at a club and spots Todd, the nameless man from her tell all. She greets him briefly with a hug and a quick chat. After Kris leaves, they meet up outside the tennis club and chat for a bit about the aftermath of her book. He tells her she looks great and when they hug again, he says he doesn't want let go. She gives him her current email address, which is really her assistant Noelle's email address. When Kris arrives home, she tells Bruce about her accidental meeting with Todd. Bruce recalls his last run in with Todd, which was a shouting match over Kris two decades ago. Bruce doesn't understand why Kris even spoke to the guy and was even more ticked that she hugged him.
Scott and Kim hit the town together for dinner. Scott says he loves Kim, but she's the most boring person ever, so he invites a friend of his to join them. They go back to her place and play on Chatroulette where they iChat with total strangers. Kim even flashes her bra. Scott enjoys this and thinks Kim has really come around. When Kourtney hears about it the next day she's not sure how she feels about it. When Kim texts Scott asking him to go out with him again, but Kourtney doesn't believe it. Kim admits it so Kourtney says fine go.
The next day at Kris's office, Todd contacts Kris via her assistant Noelle's email. She has Noelle send a reply wishing him all the best, but we know it's not the end of this. Sure enough, Todd replies and asks to meet with Kris to talk. Noelle asks Kim if she wants to meet with him. Kris isn't sure, because her life is good and doesn't want anything to upset it. Kris decides to hold off on answering him. Since their break up years ago was quick and painful, she feels she need closure. Amid tears, she tells Noelle there is unfinished business with him that she should address.
Scott is still shocked that Ki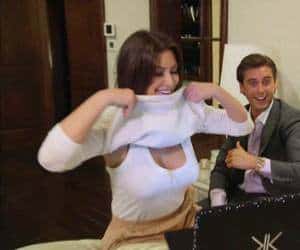 m is actually fun to hang out with. They hit a Hollywood club, and Kourtney keeps calling him. Scott calls her back hours later from Kim's telling her he would stay the night there because he'd been drinking. Kourtney's not having it and tells him to figure out a way to get home. Scott finds his way home. Kourtney decides it's enough with the hanging out. She tells Scott the party is over. Kourtney calls Kim and tells her to find her own boyfriend to party with, which makes Kim laugh.
Kylie spills spaghetti sauce on the living room carpet. Naturally the stain won't come out and the Kyle and sister Kendall panic, knowing Kris will kill them. They go to a janitorial supply house and order a giant carpet extractor and cleaning supplies. The girls can barely get the machine in the house for starters, and it's hard getting it all hooked up. The machine removes the stain, but also part of the floor. Now they are even bigger trouble.
Kris confides to Kim about what's going on with Todd, and tells her she's considering seeing him again. Kris is shocked, asks Kris wants to stay married, if so, stay far away. To Kim's point, this man broke up a marriage with four kids, he can do it again. Khloe hears about this and confronts Kris. It's uncomfortable for Khloe who had spent a lot of time with Todd when she was young, not knowing at the time her mother was with a man she wasn't supposed to be with. She warns Kris about how Bruce is going to react if she meets with Todd. Khloe tells her she's playing with fire. Khloe is suspicious that Kris could meet with him and not tell anyone just like she did years before. A few days later, Kris gets rather dressy to run errands, which make Kim suspicious.
Kendall and Kylie are upset to find the tear in the rug looks worse the next day. Bruce finds Kendall and Kylie looking glum and gets it out of them. He tells them they must tell Kris and take the wrath. When they show it to Kris who doesn't think it's a big deal. Bruce and the kids are shocked at her non reaction. Kim gets even more suspicious that Kris is so calm so she and Rob decide to follow Kris on her errands. After a while they accidently lose her.
To be continued on the next episode of Keeping Up With The Kardashians, airing Sunday, June 25 at 9 p.m. (ET) on E!