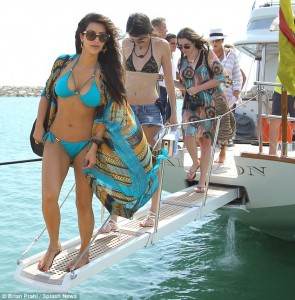 When last we left Keeping Up With The Kardashians, Kris had disappeared for the afternoon with Kim and Rob on her tail. Although they lost her on the highway, they suspected Kris was meeting up with her ex-lover Todd Waterman, and they were right. But, in a last minute surge of guilt, Kris turns the car around and decides she can't do it.
It's time for the family vacation and everyone tries to decide where to go. Khloe has already informed the family she will not join them, because she needs to stay with Lamar. Kourtney is in favor of Ireland but nobody else is on board. Nobody can decide so Bruce suggests everyone write on a piece of paper where they want to go and they will pick the destination out of hat. Kim's choice of the Dominican Republic is the winner.
Bruce, two of his sons, and Scott spend a day at the racetrack. While there, Bruce introduces Scott as 'my friend'to which Scott takes immediate offense. After racing a few laps, Scott leaves without a word. Bruce is annoyed because he pulled strings to get him in. Now Bruce doesn't feel too enthusiastic about vacationing with him.
The family prepare to leave for the vacation. At Kourtney's house, Kim is anxous to leave but Kourtney is dealing with plumber problems. When Kim insists they leave or miss their flight, Kourtney says she doesn't want to go. Koutney is tired, pregnant and not in the mood for a late night flight. Kim leaves, but Scott stays behind with Kourtney. On the way to the airport, Kim learns she missed her flight.
When the gang arrives at their villa, a big surprise awaits: Khloe! Kris is thrilled and is anxiously awaiting for the others. Khloe tells her that Kim texted her about the missed flight and that Kourtney may not come. Kris is disheartened. Bruce tells Khloe he is pissed at Scott. Khloe is afraid for Scott's arrival because Bruce rarely gets mad.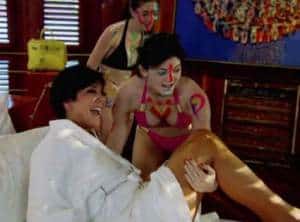 The girls dress up with tribal face paint and decide to sacrifice Kris. They drag her from bed, down a two staircases and toss her in the pool. Kris ends up with a broken toe. Upset with her toe, she's also upset that Kim, Scott and Kourtney arrived in Miami for their connecting flight but Kourtney has once again decided she doesn't want to go. Kim finally makes it to the island.
The family arrives back from their boating trip to find that Scott, Kourtney and Mason have arrived. Bruce decides to keep his distance from Scott until he apologizes. Kris tells Scott he's spoiled and not appreciative of Bruce taking him to the racetrack. Scott pours water on her head. He spent 2 days traveling to get there with a cranky pregnant woman and a small child and he just wants to go home at this point. Bruce meets a pro on the golf course and immediately thinks of introducing him to Kim.
Unbeknownst to Kim, Bruce takes her golfing in the hopes of making a love connection between her and Eric the golf pro. Later Bruce tells Kim he invited Eric for dinner. Kim is shocked but tells him she's not interested in dating. We find out Bruce just wants a golf pro in the family, but agrees to disinvite him. Over lunch, Rob tells Scott how Bruce is feeling about him. Finally, Scott's side comes out. He tells Rob how Bruce referred to him as his friend, which made Scott feel like they didn't have a family relationship. He says if he has to, he will remind Bruce that he really isn't Mason's grandfather.
At dinner, there's tension for everyone. Bruce doles out parenting advice to Scott who gets offended and smart mouths him back. Kris takes issue with Kourtney over her recent indecisiveness, the flight issues, and really goes for the jugular when she attacks her over her indecisiveness about her relationship with Scott. Kourtney tells her the she's the last person she'd take relationship advice from, someone who is meeting up with people from her past. Bruce wonders aloud what that means. He correctly assesses that Kris made contact with Todd and leaves the table. Khloe reminds her that she promised to tell Bruce if she decided to meet with Todd and calls her a liar. Kourtney encourages the others to get up and leave, siding with Bruce. Kris is left alone at the dinner table.
On the next episode of Keeping Up With The Kardashians, Kris tries to repair the fallout between her and Bruce. Catch it Sunday, July 1 at 9 p.m. (ET) on E!