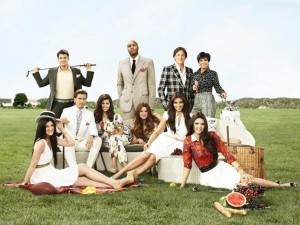 Keeping Up With The Kardashians has returned for a 7th season, and the drama picks up where the season finale of Khloe and Lamar left off…mainly a DNA test for Khloe.
Kris knows the rumors spread by her late ex-husbands wives are nonsense but pushes Khloe to take a DNA test. She wants Khloe to feel secure in who her parents are and to put the rumors to rest. Khloe refuses and pushes her mom away but Kris believes she needs it so she can feel complete. Kris contacts a DNA specialist. If the parent is deceased, three siblings are needed. Coincidentally, there are 3 full siblings, Kim, Kourtney and Rob.
Kris tells her kids she wants to go through with the cheek swab DNA behind Khloe's back. But Kim and Kourtney are against it if Khloe is unaware. Kris wants their blessing, but they want Khloe's. Ultimately they agree and amazingly, the DNA specialist rings the bell. Bruce thinks she's going too far…again. He reasons that this whole thing became a tabloid issue because of Kris's book, which outlines in detail the affair she had while married to Robert. The DNA specialist takes Kim and Kourtney's cheek sample. Kris then approaches Rob about getting his DNA sample. Of course, the specialist is waiting outside. Rob thinks it's absurd but agrees.
Bruce complains to Khloe that he feels left out of the family, that nobody talks to him or includes him in anything. Khloe offers him a place to escape to. He tells Kris he's fed up and heads to Khloe's. Scott joins him there for some male bonding and complaining. Bruce has Scott call the house to see if anyone even notices he's not there. Kris answers and doesn't realize he's gone.
The lease is up on the sisters'DASH store in Los Angeles, so Kourtney decides to explore other locations. Her sisters were busy, so she goes real estate hunting with her assistant. While Kris in unveiling her new Kardashian brand office space, Kourtney gets an email that the space she wants for DASH is available. Kim immediately reacts, pissed that Kourtney doing this on her own. Kourtney reminds her that she doesn't have time to focus on it. Kourtney takes Kim to see the place se has in mind. Kim finds issues with it and they try the next place. Kim doesn't like this one either. Kourtney thinks this is all on purpose. She tells Kris that Kim doesn't make herself available to do any DASH business, but Kris insists that Kourtney try harder to include her, since they started this business together.
Bruce returns home realizing that nobody even knew he's been gone for a few days. He confronts Kris and tells her things have to change or he's leaving for good. Kris tells him if he wants to be involved, then he has to become part of the team. She accuses of him of never being around and not caring what is going on.
Taking momager's advice, Kourtney invites Khloe and Kim to check out a new space she found for DASH. They love the space, and both sisters tells Kourtney they will make themselves available when she needs them.
Kris has a family dinner and invites everyone to attend. Kourtney announces she and Scott are having a girl. The family is excited, but then the talk turns to DNA again as they await Khloe's arrival. Kourtney tells her mom that if Khloe says no, she needs to accept it. Kris is adamant that she will not accept no for an answer. Khloe arrives and Kris puts it to her. Khloe blames Kris for her book revelations. Kris blames the other women. Khloe tells the family that the tabloids are not going to force her to do anything. Once again, the DNA specialist arrives right on time. She apologizes to the doctor, telling him she didn't know he was coming and she doesn't want to do it. Khloe feels ambushed and thinks this is all about Kris and not her. She feels Kris wants the public vindication. Kris cries, knowing in Khloe's heart she's really hurting. The next day Kris has lunch with Kim to try to talk this out. Kim knows her mom meant well but thinks her approach was wrong. Kim believes Kris wants it for herself and should be honest about that instead of making Khloe thinking it's for her.
Bruce decides to take control of his teenagers and insists they go out for ice cream with him and Kris. While there he finds out Kylie is struggling in school because of her work. Bruce is dismayed that he didn't know this was going on, but was happy they were finally communicating.
Kris writes Khloe a letter instead of trying to talk to her. Khloe tosses it to the side telling her she doesn't care about the letter. Kris yells at her to give her the respect of reading the letter. Khloe reads the letter. In her letter, Kris says she knows her father would want her to put the rumors to rest. Khloe hugs her mom, telling her she appreciates the letter but that Kris needs to respect her and let's move on. They agree to forget about it and move on. Khloe tells us she has had a blessing to have had two phenomenal fathers.
Next week on Keeping Up With The Kardashians, Bruce leaves and Kourtney has deep seated resentment against Kris, Sunday, May 27 at 9 p.m. on E!