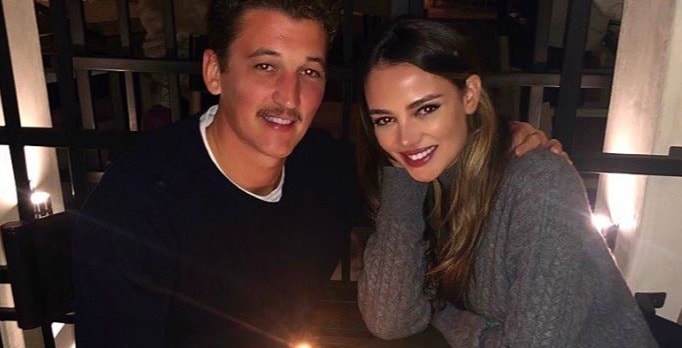 Nothing is as adorable as a celebrity couple in the limelight; it significantly adds to the thrill of celebrity life. Furthermore, exciting dramas are always a ship in the offing as it has happened with many celebrities. Most of such relationships are usually short-lived and end up in an ugly way. However, those that stand the test of time end up living the fairy tale happily ever after marriages. For Keleigh Sperry, the experience so far is perfect. Keleigh is an American actress, model and social media sensation who melted the heart of the legendary actor Miles Teller. The couple has been together since 2013, and there are reports that the two have finally tied the knot. You might have known the beauty from her relationship with Miles Teller, but there are other things about her that you probably do not know. Such would include the following:
1. Personal and early life
According to Learn More Facts, she was born and grew up in California, USA. She is currently 26 years old and is an American citizen. There is no mention of her parents' names, but she has five known siblings, namely Brian Sperry, Katie Sperry, Kevin Sperry, Christine Sperry, and Michelle Sperry. Being the last born in the family, her siblings supported her career dream from when she was young. She started practicing acting when she was just a little girl but picked up modeling aspirations in her teens.
2. Her relationship and love affairs
Keleigh Sperry has been stuck with actor Miles Teller since May 2013. They met at a Black Keys party where they immediately clicked. The two seem to enjoy each other's company and make appearances in different events and red carpets hand in hand. After dating each other for three years, the two love birds got engaged on August 20, 2017. Keleigh claims the movie star proposed while they were on vacation in Africa. The two recently tied the knot in a private but elegant wedding in Maui, Hawaii.
3. She is a successful Model
Heavy reveals that Keleigh Sperry is a successful model who worked with One Management for seven years. Her popular Instagram account has made her a hotcake for such modeling agencies. She flaunted over 109k followers as of 2017, making her account an excellent platform for One Management to showcase their clients' products. Keleigh Sperry has, however, jumped ship and is currently represented by the famous LA Models label and also owns an account with Model Mayhem. Her modeling career is at its peak.
4. She is a humanitarian
The modeling and acting sensation seems to have a soft spot for humanity. According to She Knows, Keleigh Sperry has joined hands with Wells of Life; a non-profit and non-governmental organization that seeks to provide clean water to villages in Uganda, Africa. She is, in fact, the first female ambassador of the cause and an esteemed advisor of the current Ugandan Prime Minister, Ruhakana Rugunda.
5. She loves dogs
It might seem like a simple fact, but the love Keleigh Sperry has for dogs is quite overwhelming. She owns a dog who probably receives more attention than a significant population of humanity. She always posts pictures of her dog on her various social media platforms dressed in fancy attires. The well-groomed dog is probably living a life most humans cannot afford.
6. Her social media presence
As a model and an actor, Keleigh Sperry is very active on different social media platforms. However, she seems to have a preference for Twitter and Instagram. As of 2019, her Instagram account flaunts a massive following of about 472k followers and about 446 posts. Her Twitter also has a massive following of 7k followers. She uses these platforms to sell her modeling brand as well as advertise her client's products. Furthermore, these platforms offer a perfect stage for her to mobilize support for her roles in different movies and shows. She also entertains her followers with beautiful photos and video clips of her exclusive lifestyle.
7. Her screen appearance
Although she is a relatively new face in acting, Keleigh Sperry has managed to secure roles in some famous movies and shows. As revealed on her IMDB profile, she has had significant roles in the acting industry. In 2017 she made an appearance in "Dance" taking up the role of Bliss. Furthermore, she hosted "E! Live from the Red Carpet" back in 2015 and also appeared in Phil Muci's horror movie, "Opeth: The Devil's Orchard."
8. She was involved in a car accident
In 2016, Keleigh Sperry and her husband Teller escaped unscathed from a road accident in San Fernando Valley. It is alleged that an Uber made a wrong left turn on their path, causing their truck to do a flip over. The couple escaped unhurt, but the passengers in the Uber were hurt. Since many actors have lost their lives due to accidents, with Paul Walker topping the list, Keleigh is lucky to be alive.
9. Her hobbies and interests
Keleigh Sperry is a celebrity who loves having a good time. Her social media accounts have countless photos and video clips to support this fact. As seen on her Instagram account, she has a collection of photos, and video clips showing how she enjoys her life. Sperry loves going out on vacations, taking a good swim as well as posing on the red carpet. She has, however, claimed that for her, nothing beats the feeling of taking it easy and sipping a glass of good wine.
10. Her net worth
The celebrity is doing well financially and amassing lots of cash from both her modeling and acting career. As of 2018, the celebrity's net worth stood at $700 thousand. Such is not a mean feat for a star who has been in the limelight for a short time. This amount is bound to increase significantly in the near future with claims that the actress has secured more roles in upcoming movies and shows.