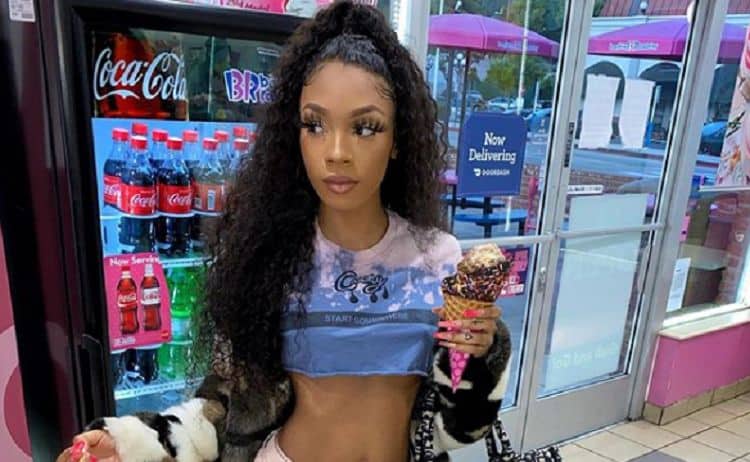 Kellie Sweet is an American R&B singer who is currently riding on a wave of success in Vlogging on YouTube. According to her profile on Idol Wiki, she thrives on offering insight to her faithful followers on a collection of diverse issues on YouTube and consequently earning from the same. She focuses on a few topics, including relationships, beauty, comic situations, DIY tips, and many more. She made a breakthrough in vlogging back in 2015 when her YouTube channel gained about 270k subscribers. There are a lot of things that you probably don't know about the YouTube personality, but here are ten facts to keep you informed.
1. Personal life
Kellie Sweet was born on 18th December, 1996 in San Diego, California. She grew up in the same neighborhood alongside her parents, Sandra and Raymond. Sweet has two siblings, a sister, Sharee and a brother, Raymond Jr. Since she was young, Kellie had a dream to make it big in the entertainment industry. Consequently, she signed up for acting classes right from a tender age, committing to achieving that dream. She is currently living her dream, a reflection of hard work and dedication.
2. She started her first YouTube channel when she was 15 years old
Contrary to what many may think, Kellie's breakthrough in vlogging did not happen overnight. As revealed by The Famous People, Kellie Sweet started her first YouTube channel at the age of 15. It became a platform for supporting her aspirations of making it in the world of entertainment. Kellie posted fashion and beauty videos, which over the years progressively earned her many viewers. She went further on to establish her twitter account where she shared her link to her YouTube videos hence attracting more viewers to her channel.
3. Her social media activities
Kellie Sweet is simply the queen of social media as supported by the thousands of fans who follow her every move on her social media platforms. She has about 85k followers on twitter and a massive 1 million on Instagram. Moreover, her YouTube channel has so far gained over 2 million subscribers. It is through these channels that Kellie makes her living. She posts sponsored ads on her Instagram account for clients earning thousands from the same. Moreover, in two days, her newly published video on YouTube can gain over 250k views. With such popularity, her social media is a goldmine for sponsors who are out to reach out to potential customers and sell their products. She has endorsed products on her accounts for clients such as ROSE BOX NYC, Pretty Little Thing, Fashion Nova, and Shein.
4. She is a personal fitness trainer
Kellie Sweet's super body is a reflection of her religiously-observed workout routine. She has in the past, uploaded this routine in a bid to help out her followers. In the routine, she recommends a two to three days a week work out with a daily run. Due to the feedback on the routine video, she successfully reached out and impacted most of her followers.
5. She battled depression
Most celebrities have, at one point in their lives, faced the wrath of depression. Some have even succumbed to it, but many survive to tell of its terror. Kellie Sweet is lucky to have been amongst those that survived the scourge. According to Healthy Celeb, way back towards the end of high school, Kellie was at a crossroads. Depression weighed so heavily on her that she contemplated committing suicide. However, with the right support, she found the strength to move on.
6. Her relationship status
No celebrity can escape the grilling of the media concerning their love life, and Kellie Sweet is no exception. She has in the past been at the heat of dating life and is said to have dated the rapper Cash Ali with whom they even co-owned a YouTube channel called BOTTOM GRILL. Currently, she has in multiple times through her videos on YouTube proclaimed her massive crush on Jay Versace, a lucky young lad who frequently features in her videos. It is assumed that this could be her new catch.
7. Her popularity
Kellie Sweet is a prevalent figure in the entertainment field. Her reputation is highlighted by the many fans that follow her on her social media platforms. Having 2 million subscribers on YouTube, with over 141 million viewership, 1 million followers on Instagram and 85k on Twitter, is a perfect gauge of popularity. According to The Famous People, Kellie appears 132nd on the beauty Vloggers chart. Moreover, on the list of top YouTubers, she appears at 1324 position in addition to being 279th on the list of Instagram top stars. In the group of stars within her age group, Kellie ranks 9th.
8. Her earnings and net worth
Kellie Sweet gets most of her earning from Vlogging on YouTube and hosting sponsored ads on Instagram. She consequently receives royalties from such, but her salary is not distinctly recorded anywhere. Her net worth according to Idol Wiki is estimated to be way above $70k as of 2017, an amount that is bound to have increased rapidly in the last two years. As of 2018, it had more than doubled to $180,000.
9. Her hobbies
Kellie Sweet has a variety of hobbies that she enjoys in her free time. Kellie loves singing, which drew her to R&B music though she is still an amateur. Film and reality TV shows also blow the mind of the influential YouTuber. Currently, she highlights the animation Grinch as her favorite film as well as the "Get Down" show. She is also a big fan of Tupac and loves his Resist Temptation song very much. From her Instagram account, it is also clear that Kelli loves a good swim in addition to good vacations. She has admitted in the past that she loves holidays and to be exact she adores Christmas. Kelli Sweet also paints a picture of modeling love all over her Instagram wall.
10. She is entrepreneurial
Kellie Sweet announced that she had launched a clothing line in 2018 called BO$$BABE. The outfits featured in the collection range from cropped hoodies to leisure pants as detailed on Issue Wire. The clothing line is in collaboration with WhatsMode, an online retailer, and Kellie provides customers with high quality yet affordable clothes