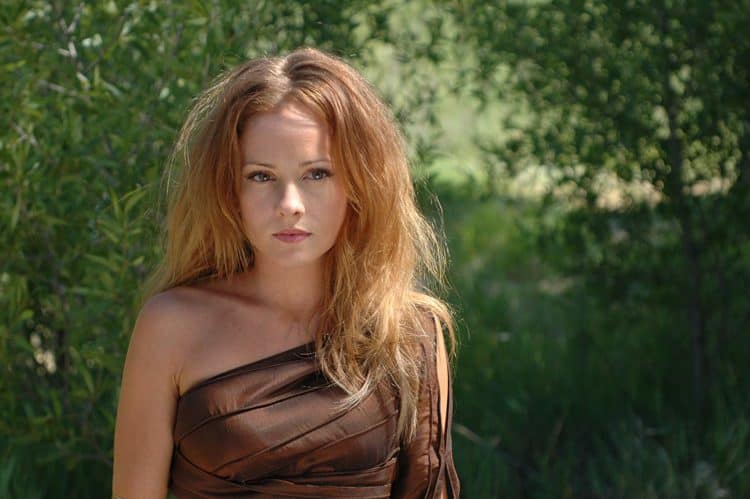 Some people aspire to greatness when they're younger and actually get it. But as Kelly Stables can attest to greatness is always a series of stepping stones, only coming to a halt when one finds the level of fame and happiness they were seeking. For some the quest never seems to end as perfection isn't always attainable, but the pursuit of something greater is just too enticing to pass up. Kelly has made a stable and successful career for herself since she's starred in and helped out with a few very notable movies and TV shows in her career. She's even voiced a few characters for several video games and has been seen to be a family person as well during her tenure in show business. At this point it seems as though she might have hit her desired place in life and is enjoying herself at this time.
Here are a few things you might have not known about her.
10. She worked on both Ring movies.
She did stunt work on both movies and played the evil version of Samara. This film was absolutely terrifying when it came out for several reasons, one of them being that swift, jerking series of movements that Samara had when she came surging up out of the well.
9. She was the prom queen and class president of her high school.
These are great accomplishments when you're still in high school since it means not only that you've decided to take initiative with your life and stand for something, but that others around you have recognized it and agree that you're the best choice for the role.
8. She gave birth to her kids in her 30s.
Some women decide to wait for the perfect moment in their life, or at least until they feel that they're well-established and can give a child as much love and attention as they need. The longer one waits however the more complicated it can become.
Katy had to dress up in one of the monkey suits in order to play her part. At that point she knew that she was moving ahead but it was still a poignant reminder that she had to pay her dues in order to really start gaining the roles she wanted.
6. She was exposed to a lot of theater when she was younger.
Growing up in St. Louis she was able to attend a lot of theater, which helped her to decide what she wanted to do with her life as she began to harbor a love for performing that would one day lead her in the direction she wanted.
5. Her career started in 2002.
Starting in one's 20s almost seems like it's a late start these days since so many people tend to get their starts as kids or teenagers. But to be honest starting in your 20s can impart a greater amount of life experience and wisdom that can be used to progress at a reasonable and more sedate pace that can help a person explore their options in a much more secure manner.
4. She's 40 years old.
Honestly and truly she doesn't look her age. Some people tend to age very well and Kelly would appear to be one of them as she seems very fit and has managed to remain youthful in her looks and her mannerisms.
3. She was in The Haunted Mansion.
This film didn't really do so well despite being based around the actual ride at Disneyland and starring Eddie Murphy along with several others. Perhaps it wasn't the right time for the movie to come out or it just wasn't a well-thought idea. It did seem like it should have been a little more well-received than it was.
2. She's done a few voice roles.
She's done voice roles for movies and for video games so she has managed to diversify her talent a bit. This is pretty important since it's always nice to be considered as more than just an actor. Those that can display other skills are often considered quite valuable.
1. She was in Horrible Bosses 2.
If you watched the first movie then you know that it's a lot of slapstick humor and gags that are just flat out gross but hilarious. People that are easily offended by this kind of stuff are usually the ones that are surprised that it's actually humorous, but quite honestly if you look at the outtakes you can find that most of the actors are just trying to keep a straight face throughout much of the film.
Kelly definitely seems to have everything in her career under control. She's managed to be part of the industry through good and bad projects and is still around so obviously she's done something right.