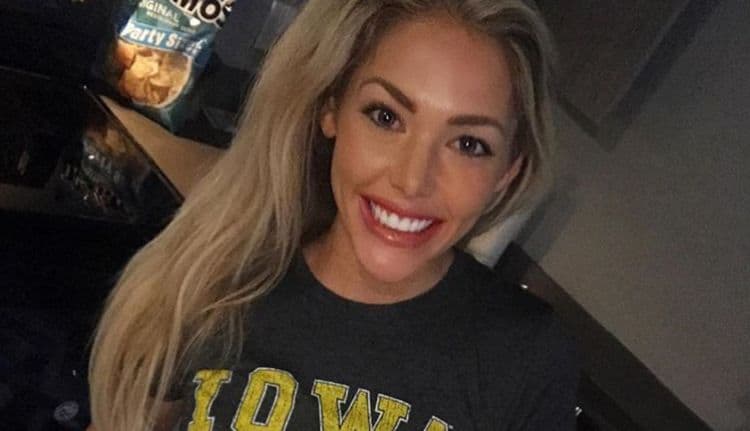 Getting someone with whom you can raise a family and grow old together can be a hard task. That is why shows like "The Bachelor" have made it easier by bringing together a single man and tens of single women in the hopes that at least one will capture his heart. Kelsey Weier is a contestant in season 24 of the series. The 28-year-old who works as a professional clothier at Tom James Company is among the women who are seeking to get the final rose from Peter Weber. Get a sneak-peek into her life and a few spoilers about her fate with Peter.
1. She is charitable
Most people do not like Catholic-based schools since they usually are strict, but Kelsey is grateful that her mother took her to one. She joined a catholic school at only five years, and the institution instilled in her the need to give back to the community. She continued her selfless nature even in high school, where she participated in nutrition drives for homeless people. Her efforts did not go unnoticed; she was awarded the Silver Cord Award for her 400+ community service hours, according to Pageant Update.
2. Her similarity to Hannah Brown may work against her
Lyrics to Usher's song "You remind me" might come true for Peter Weber. According to Bustle, Kelsey shares the same personality with Hannah Brown. Since Peter was madly in love with Hannah while she was on "The Bachelorette", but they did not end up together, he might decide that Kelsey reminds him too much of Hannah and deny her a rose. However, it could still work in her favor if the moment he starts connecting with Kelsey, Peter remembers why he fell in love with Hannah. So far, things are looking up for her, but one spoiler is that she will be eliminated in the last rose ceremony.
3. She does not get along with her father
Father-daughter relationships can get strained, especially when little girls perceive their father negatively. In the Weier family, all three girls do not have a good relationship with their father most likely because he turned out to be a deadbeat. They even do not want to reconnect with him because when producers of "The Bachelor" try and include him in the show during Peter's hometown visit, one of the family members makes it impossible. Since Kelsey is sent packing immediately after that hometown visit, perhaps Peter realized he could not be mixed up in the family's disconnection.
4. She is athletic
From her trim figure, you can probably tell that Kelsey has maintained an active lifestyle. In school, she ran track and was on the basketball team. During her junior year of high school, Kelsey's basketball team proved its competence by qualifying for the state tournament after winning the Central Iowa Metro League.
5. She likes keeping fit
Kelsey is not one to let herself go; she knows she is beautiful and wants to maintain her slim figure by making the right lifestyle choices. Since diet plays a critical role in how we look, Kelsey strives to eat nutritious foods but does not deny herself her favorite dishes that include seafood and pasta. She also likes to exercise outdoors when the weather is conducive and prefers riding and boating.
6. She was raised by a single mother
We do not choose our background, we can only make the best of what we have, and Kelsey had to do that. There is not much known about her father, and Kelsey opened up that her mother, Beth, had raised her. It is evident that she looks up to her mother who raised three girls on her own, and to Kelsey, she still wonders how she did it.
7. She likes learning about different cultures
Kelsey does not hide her love for traveling in her bio and wants a man with whom she can travel the world. Her visits to various places open her up to different cultures that she is keen to learn everything about; so far, she has visited three foreign countries and wants to add another to her list.
8. She is competitive
The reality star is not one to sit back and relax; after one door fails to open, she will keep pushing until it does. Her modeling career evidences her competitive nature since she did not stop until she took the crown. In 2015, Kelsey participated in Miss Iowa USA and finished as the second runner up. Determined to be the best, she contested in 2016 and ended up in the first runner up position. That did not discourage her; instead, it fueled her to participate in 2017, and this time, she was crowned Miss Iowa USA. She was excited for achieving a dream that she had carried in her heart since being a little girl and shared the good news on her Instagram account.
9. Her inspiration
Most of us will talk of the big names in the corporate or entertainment world when asked who our role models are. Kelsey, however, is not inspired by any of the celebrities; instead, she looks back to her past when she came across one extraordinary woman, Sonja Heying. For Kelsey, it appears that she upholds family relations, thus admired Sonja because the woman was not only a dedicated mother but wife as well. Sonja already had a year and a half old child when she was blessed with triplets. Kelsey, therefore, worked for her as a nanny, and it was different because Sonja stayed home with Kelsey.
10. She is older than her twin sister by three minutes
It is such a pleasant surprise to be expecting one child only to be told that your bundle is coming in multiples. Beth was blessed with two girls, Kelsey was born first, and three minutes later, Kayla joined her. They are fraternal twins but the grandparents like dressing them up in identical clothes; according to Life and Style magazine, Kayla said the grandparents gave them matching sweaters. On Kelsey's Instagram, she has a picture in which both of them were wearing identical dresses when they were little girls.