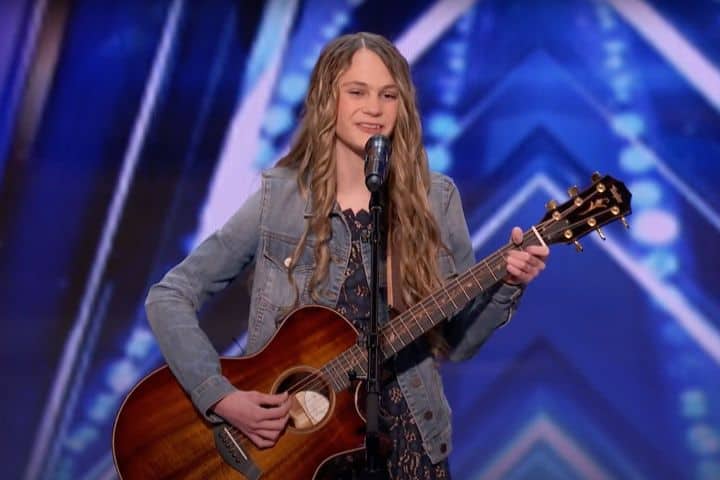 With everything that's been going on in the world lately, this season of America's Got Talent has felt extra special. That feeling is largely due to contestants like 15-year-old Kenadi Dodds. The young singer, whose audition for the show recently aired, left viewers and judges in disbelief with her amazing voice. On top of that, she also performed an original song she wrote herself. Despite being young and having a small frame, Kenadi proved to be a vocal powerhouse as well as a talented guitar player. Even if she doesn't win the season, Kenadi is yet another example of all of the talent we have floating around in America. Continue reading for 10 things you didn't know about Kenadi Dodds.
1. She's Always Wanted To Perform On A Big Stage
Kenadi has been singing for as long as she can remember, and her dream has always been to become a star. Part of reaching that goal includes getting the opportunity to perform on a big stage. That opportunity finally came when she got the chance to audition for AGT.
2. She Is A Shania Twain Fan
As a young person whose just getting started on her musical journey, Kenadi has always looked up to many of the artists who came before her. One of her favorites is Shania Twain. When she was younger, Kenadi attended one of Twain's concerts and has been hooked ever since.
3. She Performs Covers On YouTube
There's some good news for all of the people who have been wanting to hear more from Kenadi since her AGT performance. She has a YouTube channel where she regularly uploads covers of herself singing popular songs. Some of her covers include "I Will Always Love" and "Ocean Eyes".
4. She Writes Songs With Her Dad
Kenadi isn't the only person in her family who has skills in the music department. Much of Kenadi's focus and drive comes from her father, Chris, who is also her songwriting partner. The two have been working together to write songs for many years.
5. Her Parents Are Visually Impaired
Kenadi is the only person in her family who doesn't suffer from a disease called Retinitis pigmentosa. According to WebMD, "Retinitis pigmentosa (RP) is a term for a group of eye diseases that can lead to loss of sight…When you have RP, cells in the retina called photoreceptors don't work the way they're supposed to, and over time, you lose your sight." Both of Kenadi's parents have lost their sight, and her younger sister eventually will too. Kenadi said, "My little sister told me that she wanted to see me on the biggest stage in the world before it's too late and her vision's gone. I've worked really hard to get here, and it's been crazy."
6. She Has Sung The National Anthem At Sporting Events
Even though AGT marks Kenadi's first time on a national stage, she is already fairly well-known in her local area. She has performed the national anthem at a Utah Jazz game as well as a Salt Lake Bees game. Kenadi has also sang the anthem at college games.
7. She Opened For The Swon Brothers
Performing in front of a live audience isn't an easy thing to do, but Kenadi's already gotten the hang of it. She's opened for The Swon Brothers, a country music duo from Oklahoma. Many viewers will remember The Swon Brothers for their appearance placing third in season 4 of The Voice.
8. She's From Utah
Kenadi is a country singer, but she's actually from Utah. However, judges were so impressed by the authenticity of Kenadi's voice and style that they seemed to have a hard time believing that she isn't from Nashville. Kenadi's talent is proof that country music doesn't only come from the country.
9. She's Active On Social Media
These days, a strong social media presence is a must for anyone trying to make it in the entertainment industry. Building a strong social media presence can lead to bigger opportunities. On top of posting covers on YouTube, Kenadi is also an avid Instagram user. She only has 3,781 followers at the moment, but that number will likely increase as she continues throughout the AGT season.
10. She's Also Auditioned For The Voice
AGT isn't the first time Kenadi has tried her luck at a singing competition show. According to Desert News, Kenadi tried out for The Voice at least 3 times. Unfortunately, though, she never made it past the open audition. Although she's had to deal with a lot of rejection in her life, Kenadi has never once let it stop her from moving forward.