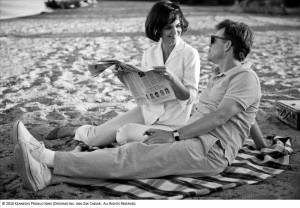 A few days ago I watched the entire 8 hour Kennedys mini-series, which will be airing on ReelzChannel beginning on April 3 (view the entire schedule and a sneak peek for the mini-series here). Of course, most of you will probably know about the controversy surrounding the series. It was originally supposed to air on the History Channel but the network chose to pass on the series after it had been filmed. It was shopped around and eventually acquired by ReelzChannel.
Rumors were abound as to why History Channel chose to pass on the series. Some people say that it was due to historical inaccuracies, while others said that the script was extremely salacious and controversial. In fact, in mid-January, The Daily Beast posted what were apparently script excerpts from the series; eight of them, to be exact. Eight scenes that were apparently in the movie. If any of these eight scenes – nevermind all of them – actually turned out to be in the finished product, I could understand why the History Channel chose to pass on the film. It would have rendered it extremely controversial. But the truth is that the finished product is not salacious. Yes, it portrays President Kennedy as a womanizer, but history has proven that as well. Yes, it portrays patriarch Joe Kennedy as extremely ambitious and driven, but that also fits with what we know of the man. In the end, The Kennedys mini-series is about a family who lived through some extraordinary times and had their own problems, but who ultimately loved one another in their own way.
In case you read about the eight salacious scenes from The Daily Beast, or elsewhere on the internet, I wanted to set the record straight on the script controversy and let you know whether these scenes actually ended up in the finished series. I also intend to write a full review of the performances, so stay tuned for that later in the week. Here's the proposed scenes taken from The Daily Beast and the truth of them:
(1) Wilkinson's Joe Sr. fondles his secretary in his office at the ambassador's residence in London in 1938. As he dictates a note to the president, Joe 'fondles her breasts'and 'nuzzles her neck.'When sons Joe Jr. and Jack enter his office, Joe Sr. continues his fondling as his sons look on, 'amused.'The note he's dictating? It suggests that in order to keep the peace in Europe, certain concessions be made to Hitler. (It's a viewpoint later parroted by son Joe Jr. even after the annexation of Czechoslovakia.) A comment made about Jack's shabby clothes results in him telling his father, 'Girls figure I need help dressing. Once I get '˜em in the closet…'
This scene doesn't take place at all. Yes, it is made clear that Joe had an affair with his secretary (and his wife even witnesses moments between them and is aware of the affair), but nothing so obvious or gauche occurs at all.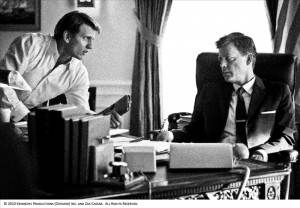 (2) Years later, Joe Sr. and his secretary Janet pass by his wife Rose in the hallway of their Hyannisport home on Election Night 1960. After chatting with Rose, he and his secretary Janet enter his bedroom as Rose locks her own bedroom door.
This scene doesn't take place at all. Again, Rose witnesses moments between the pair, but nothing like this.
(3) Joe Sr. learns that Jack is romantically involved with married Danish national Inga Arvard (whom Jack refers to as 'Inga Binga'), a woman that J. Edgar Hoover reports has 'been linked to counterintelligence activities in Washington on behalf of the German government.'When Jack refuses to break off relations with Arvard, Joe Sr. has Jack shipped overseas after placing a call to the secretary of the Navy.
A relationship between Jack and Inga is mentioned, but Joe doesn't ship Jack overseas. In fact, Jack is the one who insists on fighting in the war and has to beg his father to get his medical records fixed so that he can qualify to join the Navy.
(4) When beloved eldest son Joe Jr. dies during the war, Joe Sr. receives the tragic news by retreating to his bedroom alone, leaving his deeply religious wife Rose holding her rosary by herself. Upon entering the bedroom, he spies a two-foot wooden crucifix on the wall and breaks it across his knee.
When the Kennedys find out about the death of their son, they are both extremely saddened. Rose does want her husband to pray with her, but Joe is so upset at God for taking away his son that he refuses. He waves around a crucifix to prove his point, but doesn't break it. His actions fit in with those of a grieving father.
(5) Brothers Jack and Bobby engage in banter about horniness after their father has begun to apply pressure on Jack to marry in 1951. 'What do you do when you're horny?'asks Jack. 'I mean, how can you stand the boredom?'When Bobby replies that he loves Ethel (who has just jumped into the pool during a party in McLean, at which she released live frogs), Jack says, 'I love lobster, but not every night. If I don't have some strange ass every couple of days, I get migraines.'
This conversation and scene doesn't happen at all. Yes, Jack's affairs are made clear during the mini-series, but Jack doesn't behave so obviously and is never so crass.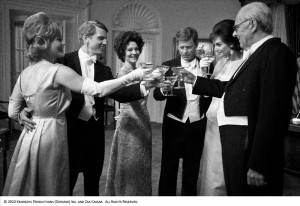 (6) On Election Day 1960, Jack implies to his brother Bobby that he had sex with a redheaded aide in his campaign offices. 'She volunteered to work overtime last night,'says Jack. 'We discussed the ins and outs of politics.'
There is a flirtation between Jack and an aide on Election Day, which both Jackie and Bobby witness, but Jack doesn't refer to her in this manner. Nor does he ever talk about his mistresses like this.
(7) In September 1953, while at Hyannisport, Joe Sr. tells Jackie he knows her grandfather was a Jew, changing his name from Levy to Lee so that he 'could get a job on Wall Street.'In the same conversation, Jackie tells Joe Sr. she wants a divorce from Jack. In order to keep the two together, Joe Sr. offers Jackie a $1 million trust, with the promise that if Jack doesn't win presidency, she can leave him and keep the money.
The conversation about the name change never takes place. Joe does offer Jackie a $1 million trust, but this all fits in line with what we know of Joe and his desire to make his children powerful. In all honesty, it fits in with the storyline.
(8) Joe Sr. buys off Chicago Italian mobster Sam Giancana in an effort to help win Jack's presidential election, telling Giancana to 'get names off of tombstones for all I give a damn.'In exchange, Joe Sr. promises Giancana protection from the Justice Department and the IRS once Jack is elected. 'If you get on board–my hand to God–all you boys'll see the best times you've had since Prohibition,'he says.
Giancana does pop up in a few of the episodes as a minor character. Joe does approach him for help to win Jack's election, but Giancana actually dismisses him. The tombstone conversation never takes place. Joe isn't even aware that Frank Sinatra independently convinced Giancana to help Jack with the election. When that information comes out, Joe is actually shocked about what Sinatra promised Giancana for his assistance and wants nothing to do with it.
So there you have it: 95% of the controversial scenes never take place in the series. I honestly don't know if they were edited out before or after History Channel saw their version or not, but the truth is that the Kennedys aren't portrayed any worse in this mini-series then they have in any other movies or series I've ever seen. While Joe Kennedy seems, at times, to be very cold, he is also a devoted and loving father. While Jack Kennedy was a philanderer, he admits that he made mistakes and still seemed to love his wife.
I'm not sure what all the controversy is after having watched the finished product, so don't let these rumors deter you from watching the premiere on April 3.
clarissa @ tvovermind.com
twitter.com/clarissa373
twitter.com/tvovermind