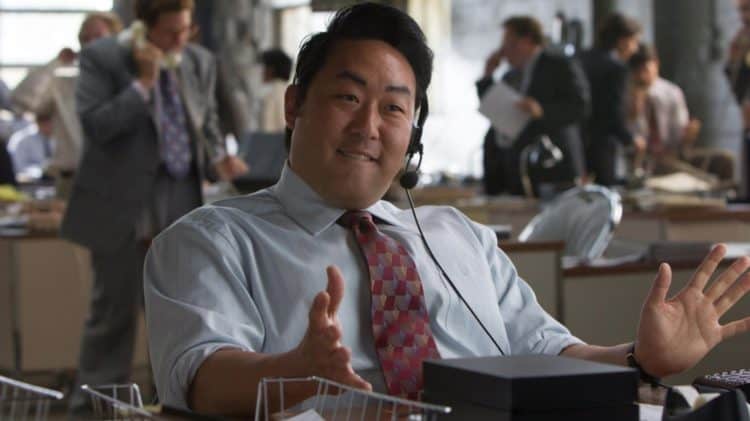 Kenneth Choi was all set for a steady, 9-5 job as an accountant until he decided to ditch university to pursue his dreams in entertainment. While his decision may have made his parents balk at the time, it's clearly paid off in the long run. With over 50 film and TV credits to his name, as well as a starring role in the hit Fox procedural drama 9-1-1, Choi is, if not a household name, then at least one of the most familiar faces on our screens. Find out more about the actor with these ten little known facts.
1. He was a breakdancer
Born in Chicago, Illinois, to Korean immigrants, Choi's first experience of showbiz came as a break-dancer during his junior years at Brookwood School District 167. Discouraged from pursuing his dreams of performing by his parents, Choi majored in accounting at Purdue University. However, his dreams proved too tempting to resist, and he eventually dropped out of Purdue to concentrate on making it big as an actor.
2. He cut all ties with his family
Raised in a strict Asian household, Choi knew his family would disapprove of his decision to leave University in favor of a career in entertainment. Rather than try to bring them around to the idea, he took the brave decision to forge ahead regardless. "I came from a very traditional Asian upbringing so they were very strict," he told the New America Media. "When I decided to pursue acting, I knew that I had to do it all on my own. When I left the Midwest, I cut all ties with my family. I basically ran away from home."
3. His first TV role was opposite Debbie Reynolds
After leaving University, Choi moved to Portland, Oregon, where he spent the next five years juggling acting studies with his job in a local Blockbuster store. After trying out for numerous additions, he finally struck it lucky with the part of "hip-sales-creature" in the Disney Channel television movie, Halloweentown. Starring alongside him was acting royalty, Debbie Reynolds. Despite the role being small, it proved enough of an encouragement for Choi to pack his bags and head to LA.
4. He didn't speak to his family for 5 years
During the entire time Choi lived in Portland, he didn't make contact with his family at all. It was only when he moved to LA that he finally found the courage to face them. "When I moved to Los Angeles, I figured I'm really going to make an attempt to become a real actor. And when I did that, I thought it was time for me to face my parents and tell them what I did," he's said. "Fortunately, they did eventually come around the idea. My dad does watch my work now. My parents watch everything I'm on. I think the first time they saw something was 'Captain America,' and he called me, and he was so elated"
5. He's appeared in over 40 TV shows
Choi's decision to abandon a career in accountancy for one in entertainment may not have been to the liking of his parents, but it's clearly paid off. Since starting his career in the Disney feature Halloweentown, Choi has appeared in more than 40 TV shows, with some of his most notable work including Sons of Anarchy, The People v. O. J. Simpson: American Crime Story, The Last Man on Earth, and, most recently, the FOX first responder drama series, 9-1-1.
6. He's been in over 25 films
While some actors prefer to concentrate their talents on TV, and others on film, Choi is an actor who likes to have it both ways. While his TV career has been significant enough, his film career has been equally noteworthy. Over the past 2 decades, Choi has racked up over 25 film credits, including The Terminal (2004), Martin Scorsese's The Wolf of Wall Street (2013), Captain America: The First Avenger (2011), Suicide Squad (2016), and Spider-Man: Homecoming (2017).
7. He gained 25 lbs for The Wolf of Wall Street
We know actors have various methods of getting into character, with some going to extreme lengths to immerse themselves in the role. In Choi's case, the act of getting into character for the part of Chester Ming in The Wolf of Wall Street involved eating. And eating. And eating. In total, the actor packed on almost 25 lbs for the role. Even so, it still didn't fill out his normally lithe frame enough to suit director Martin Scorsese, who insisted the actor double the efforts by wearing a fat suit during shooting.
8. He credits Leonardo DiCaprio and Martin Scorsese with raising his game
If you're going to work with greats like Leonardo DiCaprio and Martin Scorsese, you'd better bring your best game face to set. Choi did, and the results are easy to see in his sublime performance on The Wolf of Wall Street. During an interview with Next Shark, the actor credited both DiCaprio and Scorsese with helping him bring his A-game to the movie. "They are both at the top of their games for a good reason. Amazingly talented! And, at the same time, both are very gracious and generous," he said. "They were both very accessible and made everyone around them feel at ease. So not only does your game elevate because you are working with some of the best, but you WANT to elevate your game because they are so gracious, generous, and nice. You WANT to work as diligently as possible for these guys who are steering the ship."
9. Captain America was his dream gig
As a self-confessed comic book nerd, landing the part of Jim Morita on Captain America in 2011 was a dream come true for Choi. "I can't say enough good things about my experience working on Captain America," he told The Morton Report "I was in London for four months and met some amazing people on the job that are now close friends. I was a comic book kid, so this was a childhood dream come true. I mean, think about it. I was a kid who read Captain America comics, and one day, I'm in a forest essentially playing pretend and chasing after Red Skull's henchmen. I look over to my left, and there's Captain America. That's a 'holy crap' moment."
10. His Net Worth
Given the number of screen credits to his name, it should come as no surprise to learn Kenneth Choi is sitting on a very healthy fortune these days. According to Celebrity Net Worth, the 911 star is currently worth an estimated $2 million.