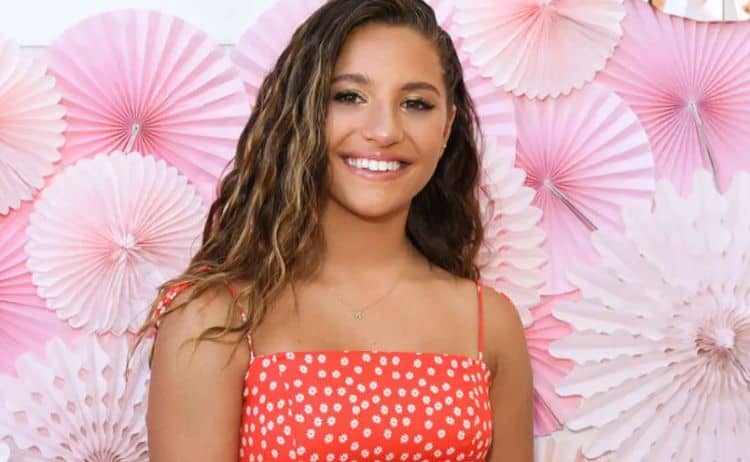 After its debut in 2011, Dance Moms quickly became a huge success. Still, none of the girls who were featured on the show could have imagined how much it would eventually change their lives. Over the years, many of the girls from Dance Moms have become famous and Kenzie Ziegler is working hard to become the most famous of them all. After being featured on the show for six years, Kenzie went on to pursue other interests including acting. She is now on the road to becoming a pop star. Her music career has already gotten off to a great start, and it looks like she has the potential for some serious staying power. Keep reading for 10 things you didn't know about Kenzie Ziegler.
1. She's A Model
Over the last few years, Kenzie's popularity has grown immensely. She went from from one of Abby Lee Miller's dancers to a star in her own right. As her name began to get more well-known, she started getting opportunities to work with brands. She did some modeling for Polo Ralph Lauren as well as a few other companies including Fabletics.
2. Her Big Sister Is One Of Her Role Models
In many ways, Kenzie has followed in the footsteps of her older sister, Maddie. Maddie is two years older than Kenzie and was also a dancer at Abby Lee Miller's dance company. Kenzie and Maddie had a rocky relationship when they were younger, but over the years they have come to appreciate and support each other and Maddie is someone Kenzie looks up to.
3. She Has A Huge Following On TikTok
Lots of people are aware of the fact that Kenzie has a large following on Instagram, but what some people may not realize is that she has an even bigger one on TikTok. Her TikTok account has 19 million fans compared to her 14.6 million on Instagram. What's even more impressive is that she's gotten over 230 million likes on TikTok.
4. She Loves Giving Back To Others
Teenagers often get a lot of flack for being self absorbed, but that's not Kenzie Ziegler. She loves helping others and has used her platform to do just that. She and her mother have worked with the Los Angeles based Starlight Children's Foundation to help raise awareness for chronically ill children. Kenzie has also worked with other organizations to raise cancer awareness.
5. She Released A Book
Maddie's dancing, acting, and singing abilities aren't the only gifts she has to share with the world. She's also already a published author. On 2018, she released her debut book titled Kenzie's Rules for Life: How to Be Happy, Healthy, and Dance to Your Own Beat.
6. She's Homeschooled
Since appearing on Dance Moms, both Kenzie and her sister haven't been able to live 'normal' lives like other kids their age. Their popularity has made it difficult for them to attend traditional school and as a result they've been homeschooled since 2013. Although not going to school with other kids can get boring, Kenzie realizes that it's for the best.
7. She Likes To Sew
Dancing and singing are what Kenzie is most passionate about, but she also has other interests. When she isn't busy working — which probably isn't often these days — she enjoys sewing. Not only is sewing a great way to be creative but it can also be very relaxing.
8. Her Name Wasn't Always Mackenzie
Kenzie's name is one of the biggest parts of her brand, but her name almost wasn't Kenzie at all. When she was born, her parents actually named her Taylor Zeigler. Two days after she was born, her parents decided to change her name to Mackenzie. There's no information out there on why they chose to make the change.
9. She Likes To Travel
Kenzie was born and raised in Pittsburgh. While the city has lots of great things to offer, warm weather and beaches aren't on the list. Kenzie loves to travel and seems to really enjoy going to tropical places where she can hang out by the water. Some of the places she's been to include Mexico, Florida, and California.
10. She Wants To Help Others Learn How To Be Positive
Maintaining a positive attitude is something that has made Kenzie's fans fall even more in love with her. She hopes that she can share the gift of positivity with all of the people who support her. She told Paper Magazine, "I love interacting with fans and showing them what I do on a daily basis. I want to show everyone how you can be positive because a lot of kids ask, "How are you so happy and positive?" I really wanted to give them advice on that."