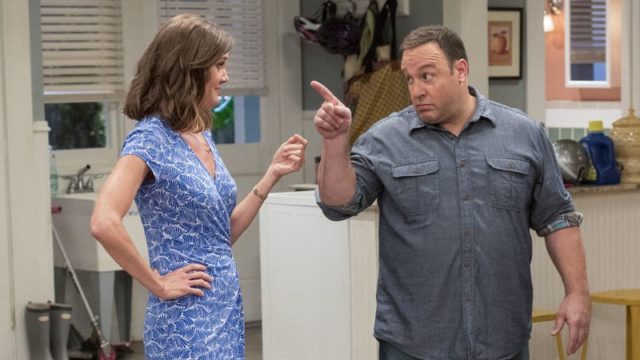 Kevin James is back for another season of Kevin Can Wait, the show about a recently retired police officer from New York. The first season showed us a character that was married with three kids; however, the season 2 premiere showed us a completely different direction for the show. While we learned a few things in season 2's first episode, the most important information is probably the fact that he is now a single parent to three kids.
Not much is revealed about the death of his wife Donna's character as played by Erinn Hayes, and being a well loved part of the show, many fans were actually angered by the way her character's death was portrayed, or not portrayed at all. There were a couple of hints spread throughout the show that pointed to her death and let us know that some time has passed since, but that was it. At least we're glad it happened sooner than later when we're really in too deep with her role.
The premiere started with Kevin looking through his mail and seeing a note from his deceased wife's gym, stating that they missed her. One short nod to her death. Kevin claims that he missed her as well. Being that the event happened a year ago from where the show is now, we probably shouldn't have expected a memorial of sorts, yet silly us; we still did. The next few scenes deal with Kendra's situation with boyfriend Chale. We saw a civil ceremony happen in order to keep Chale from getting deported, something he apparently forgot to take care of. Kendra gives another nod to her mom's death, saying that she wished her mom were there. Of course Kevin says that mom would've been proud of her, but during his reminiscent montage of Kendra as a baby, Donna was completely nonexistent. Although it wasn't necessary to erase Erinn Hayes from all of that, they still did because they could.
Perhaps the only relief that came with season 2 is the reappearance of Leah Remini's character as a season regular. Of course we know she's Haye's replacement, and we're not exactly hating on it; we just wished the transition was handled a little bit better. Leah Remini's character appeared in the final episode of season 1, and from then we should've guessed that the network has something else planned for the show. Whether they've always imagined it to be a King of Queens reunion or not is something that we'll probably never know. Fans love the combination of James and Remini, and CBS is probably banking on the success of the show through that. Watching the season 2 premiere didn't exactly give us the feels for what Kevin and Vanessa (Remini's character) might end up developing into, but we're still mourning the loss of the wonderful Gable matriarch. We predict that we'll get over it one day, but whether we're really up for another King of Queens is a different question altogether.
King of Queens—we mean Kevin Can Wait is on every Monday nights on CBS.