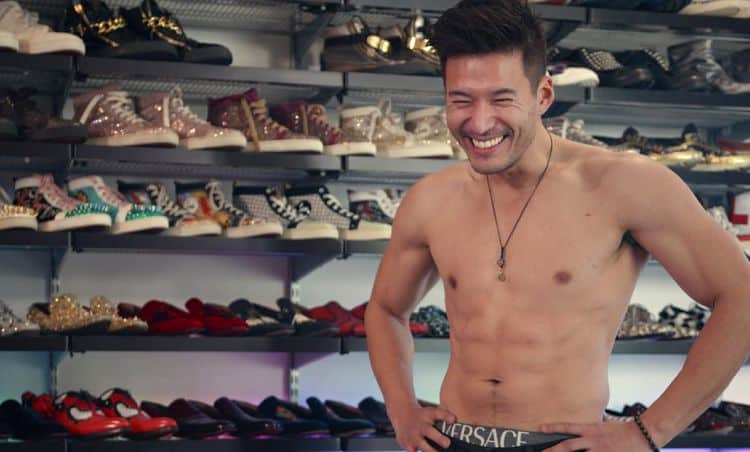 Kevin Kreider doesn't want to hear anyone else call Netflix's new show "Bling Empire," tone-deaf anymore. He's sure that the show is anything but as it brings a lot of depth and light to things that aren't typical of reality television. If we are being honest, the term tone-deaf is one that needs to be left behind in 2020. It's been misused, misconstrued, and used and abused. There's nothing wrong with living your own life to the best of your abilities – no one should expect anyone to stop living their life to the fullest simply because other people don't have the same resources – and that's all right. The world is not fair, it's never been fair, and it will never be fair. There will always be people with more, people with less, and people who just don't like to see other people live good lives because they don't feel happy in their own life. That, friends, is not tone-deaf – and neither is this new reality show. It's entertainment. It's for the viewing pleasure of the audience, and no has is being forced to watch it. So, with that in mind, let's talk about Kevin Kreider, who is already awesome in our opinion, and learn more about him.
1. He Moved from Philly
He was just living in Philly working and doing his thing when he made the decision to move to LA and pursue a few different things. He'd been involved in things like modeling and whatnot when he met with Kelly Mi Li, another of the new stars of this show. She wanted to meet, he moved there, and they met a month later. That's how he falls into this friendship.
2. He Didn't Think He'd Like Kane Lim
The first time he met Kane Lim, he immediately disliked him. It was the shoes. He was wearing a pair of ruby red shoes that were nothing short of absolutely extravagant, and he knew immediately he would not get along at all with Kelly's group of friends. Imagine his own surprise when he and Kane Lim hit it off right away and immediately became close friends.
3. He's Not Wealthy
He did not grow up wealthy. He is not wealthy. He did not know if he wanted to do the show because he's not a rich guy who has the money to spend on all the things, and his new friends wanted him to do it. They don't flash their money in his face, and they don't make him feel like he's not right because he's not rich. They make him feel warm and welcome and happy.
4. He's The Voice for the People
What he thinks people will get from this show and seeing him on it is the fact that he is a regular person. He's been hanging out with them many years, but he's still shocked and surprised and amazed at many of the things that they do and the way that they live, and it makes the viewers feel as if he relates to them, too.
5. He's Adopted
Something many people don't know about Kevin is that he was adopted. He came from Korea, but he was adopted by a family from Pennsylvania. He doesn't know too much about his own background, but he loves his family and he's happy with the way his life turned out.
6. He's Been Bullied
Remember, he's adopted. He grew up in a world full of people who were primarily white, and he was not part of the majority. He spent a lot of his time growing up being bullied for his looks. From the fact that he is slender to the fact that he is not built like other kids his age, he was bullied. It was difficult.
7. He's Fairly Wealthy
In the world we live in right now, he's not considered super-rich, but he is wealthy. His current estimated net worth is somewhere around $10 million, which is a substantial amount of money. It's amazing to us that he's not considered rich.
8. He Has a Business
He's the CEO of his own business these days. He's the CEO of Taejin Entertainment LLC, and he's spending his time focused on building his company, his career, and his own portfolio. He's enjoying his life and what he's doing.
9. He Wants to Help
Something else he wants to do in life is to help others. He's focused on making sure that other people are able to focus on their own personal growth and their personal health. He helps them with everything from their fitness to their overall health and everything in between.
10. He's Single
That we know of, of course. We have to keep watching the show to see if he ends up with someone that he might have some feelings for. We will see a lot of tension in the physical attraction department between himself and a few women, but only time will tell.