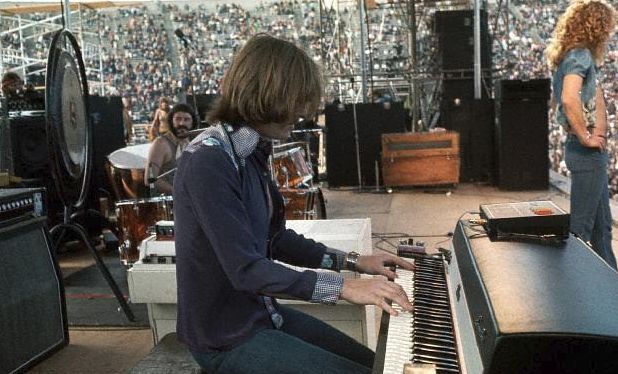 The extraordinary John Paul Jones of Led Zeppelin has created an amazing career performing solo since the group disbanded. His work as a bassist is well-known. Less often mentioned, however, is that his classical training and keyboard skills provided a distinctive tonal architecture for the band which was key to several of its greatest hits.
John Paul Jones was 6 years old when he began to play piano. His father, Joe Baldwin taught his son, who was known as John Baldwin then. The elder Baldwin was a pianist and arranger for the big band Ambrose and His Orchestra. John's mother and father toured, performing throughout England, so he entered boarding school at Christ's College, London, when he was young. He began his formal music studies there, and became organist and choirmaster for a local church when he was just 14 years old.
John's musical influences ranged from classical to jazz and blues. His favorites included the piano works of Sergei Rachmaninoff, the jazz stylings of Charles Mingus Jr., the country blues of Big Bill Broonzy, and the music of bassist Phil Upchurch. John heard Upchurch's bass solo on the LP "You Can't Sit Down", and credited that for inspiring him to learn how to play bass himself.
Jones is ranked as one of the finest rock bassists ever. His complex rhythms are killer:
https://www.youtube.com/watch?v=PeBNMwDlz7Y
John's exceptional versatility with bass and keyboards led to his work as a session musician. From 1964 to 1968, he played bass for hundreds of Decca Records recording sessions. After that, he added keyboard playing and arranging compositions to his studio session work. He completed hundreds of recordings with top artists including, the Rolling Stones, Herman's Hermits, Tom Jones, the Walker Brothers, Donovan, Wayne Fontana, Nico, Jeff Beck, Dusty Springfield, Cat Stevens, Lulu, Shirley Bassey, Françoise Hardy, Rod Stewart, and many more. At one point in time, John stated that he couldn't remember "three-quarters of the sessions" he had played, due to the sheer number. He performed in sessions six or seven days each week, at a rate of two or three each day. It was a staggering workload.
The recording sessions led to John's forming Led Zeppelin and resulted in his stage name of John Paul Jones. His friend, and record producer, Andrew Loog Oldham suggested the name. Oldham produced Jones' first solo recording. Jimmy Page, guitarist for The Yardbirds, invited Jones to play bass for the "New Yardbirds" after that group disbanded. The band quickly took on the new name "Led Zeppelin". Though Jones was an astounding bassist, his classical keyboard skills also contributed to the band's eclectic swinging sound. Here are four Led Zeppelin classics which showcase Jones' incredible keyboard mastery:
Jones playing the Clavinet on "Trampled Under Foot":
Here's the original video of Jones playing the Mellotron on "Kashmir":
The poignant piece, "The Rain Song" shows the poetic artistry of Led Zeppelin in its most introspective moments.
Here's Jones playing keyboard in a performance at Earl's Court in 1975:
https://www.youtube.com/watch?v=UK0Nve5chB4
During live performances, Jones often improvised for up to 30 minutes with his signature piece "No Quarter".
Here's a 1977 version: