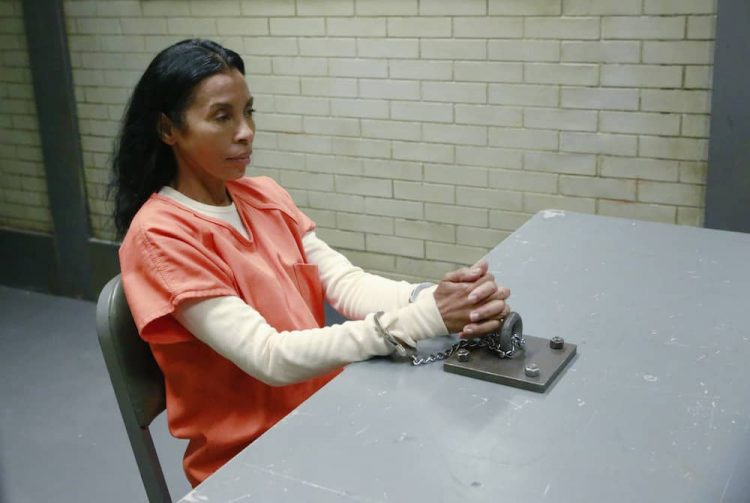 Anyone who has watched CSI: Miami from 2010 to 2013 will recognize her. So would those Tina Turner fans who have seen 'What's Love Got To Do With It?', or sat through the war picture 'Sugar Hill'. She even choreographed Whitney Houston's world tour from 1988 to 1992. In fact, it seems that Khandi Alexander has been in the business all the time…maybe you don't recognize the name, but I guarantee you that you have been entertained by her work at some point in her life, whether you knew it or not.
Khandi (pronounced 'Con-dee') is recognized as an actress, having received critical acclaim for her role in the HBOI mini-series 'The Corner' from 2000, and she also received a Critic's Choice Television Award and a Primetime Emmy Award nomination, for her roles in 'Bessie' on HBO and 'Scandal' on ABC, respectively. Even though she began her career in entertainment as a choreographer, she has definitely earned the recognition she has as an actress, racking up more than 15 award nominations, four of which she won.
So, you think you know Khandi Alexander? Well, we'd like to challenge that claim. We have compiled some information on the celebrity that we would like to bet you didn't know, and we've put it all together in list form for your reading enjoyment. So keep on reading to discover more than you ever thought you would know about this veteran entertainer.
Here are 10 Things You Didn't Know About Khandi Alexander
1. Early Life and Education
Khandi was born September 4, 1957 in Jacksonville, Florida to father Henry and mother Alverina. Her mother was a singer of jazz and opera, while her father owned an operated a construction company. The family ended up moving to Queens, where she spent her youth and young adulthood. Alexander attended college at Queensborough Community College in Bayside, New York, and it was there that she took her first dance class, which she enrolled in simply to get her required physical education credits during that time, according to TV Guide.
2. Zodiac Information
Being born on September 4, Khandi is a Virgo. Virgo women are the ones that make things happen. Both intelligent and creative, the Virgo female is typically the woman in the group who is either involved in the arts or business, even though they seem shy and reserved. They are multi-taskers who have an uncanny ability to keep all of their eggs in one basket because her organizational skills are extraordinary. All aspects of their lives are in order, and their success reflects this fact.
3. Her First Television Role
Alexander broke her acting teeth in the late 1980s on the show 'FTV'. Since then she has focused mainly on films and television, and her dancing, while still part of her life, are not central to her career. Other shows and movies on her resume include 'Poetic Justice', 'Patriot's Day', and 'Treme.'
4. Regards to Broadway
Khandi isn't just another pretty face on the small and large screens. She has also left her mark on the Broadway stage. Her works there include 'Chicago' and 'Dreamgirls', not to mention 'Dancin'', by the incredible Bob Fosse. Broadway is just another addition to the long line of credits earned by this amazing multi-talented lady!
5. Marriage and Children
Alexander is not big on divulging facts about her personal life. In fact, nothing can be found that says she is married, and she isn't talking. According to LiveRampUp, she says that she is NOT married. We can go with that for now, but the truth is that Khandi has not confirmed this to be true. She is 62 years of age, and as far as can be told, the actress has never wed. There are sources who state vehemently that she is lesbian, but once again, this rumor is neither confirmed nor disputed by the actress herself.
6. Net Worth
Khandi isn't doing to badly for herself. She has actively worked since the eighties, which means that she has definitely paid her dues over the past thirty years or so. As far as net worth goes, the actress/dancer/choreographer is worth a whopping $8 million, according to Celebrity Net Worth. All of us should be so blessed!
7. How Tall Is She?
Believe it or not, this seems to be a frequent question all across the Internet when it comes to this particular celebrity, and I was compelled to wonder why. Then I considered the fact that, to me, she does look quite tall on television, but I have to remember that I measure in at only 5' even. But not Khandi, though she is not as tall as we may perceive. The actress is only 5'4" tall, as unbelievable as that may seem. The camera sure has a way of throwing off the perception, doesn't it?
8. She's Good at Keeping Secrets
We have a good idea that this is true by the fact that she really knows how to keep her personal life to herself. But when 'Scandal' executive producer Mark Wilding contacted her in September, 2013 about being on the show, Khandi kept the news to herself, not even letting her manager know. According to The New York Post, the production company in charge of 'Scandal' (Shondaland) is really big on keeping things under wraps, and Alexander knew this ahead of time, which made it easy when it came to zipping her lips.
9. Life's Storms
Like all of us, Alexander has had to weather the unpredictable and painful storms of life. In the eighties, while working as a dancer and choreographer, she began taking drugs to help her deal with the day-to-day pressures of work. It didn't take long, however, for her to recognize the fact that her usage was interfering with her professional life, and that to her detriment. She ended up suffering a breakdown, and soon after checked into drug rehab with the help and support of Whitney Houston, who she had been working with at the time, said Encyclopedia.com. After completing the program, Khandi's focus seemed to settle on acting more than dancing, even though she continued to work for Houston for another two years. The actress just ran with it.
10. Hard Knocks
It took her awhile to gain the acceptance needed as an actress to be successful. According to Alexander, she went through some hard times financially while she worked to make a name for herself in the field. In 1995 she got a part on 'ER' , and then on 'News Radio' as anchorwoman Catherine Duke, which turned out to be the turning point for her career in acting. An executive producer for 'News Radio' told 'People Weekly', "She showed such strength in her reading [for the part]. We knew she could match [co-star Phil Hartman] word-for-word". Well, Alexander's decision to go into acting turned out to be the right one, as it has laid the groundwork for a very successful and steady on-screen career.
We don't always read about stars who suffer for their art. Today there are so many 'celebrities' who are famous simply for the videos they post on YouTube, or because of the number of followers they have on social media. It seems that none of them have had to put in the old-fashioned hard work that, at one time, determined whether or not a star would 'make it'. But Khandi Alexander is the exception to the rule, and today all of that focus, determination, and hard work are paying off to her benefit. Be sure to check out the work she has done and you will see for yourself that the woman deserves every bit of success that has come her way.