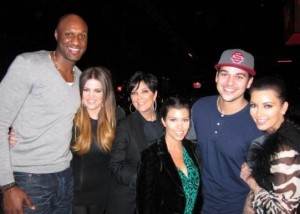 Khloe and Lamar have been missing their family, and Khloe in particular is lonely. Half the time Lamar is on the road. They're both thrilled when brother Rob Kardashian comes for a visit. Rob snuggles up in bed with Lamar to announce his arrival.
Momager Kris Jenner calls Khloe for Mav's owner Mark Cuban's phone number. Khloe thinks it's inappropriate and resists. Kris thinks it's perfectly acceptable to socialize with him. Khloe hangs up on her. Khloe is happy because Lamar is acting like his old self again now that Rob is around and the two are enjoying their playful (but weird) bromance. She wants Rob to stay, permanently. Rob doesn't want to take freebies anymore now that's 25, he wants to earn his way. Khloe takes him to the most fun places to trick him into staying. Rob insists he has his own life back home, or is at least trying to have one.
Kris arrives in town. When Rob marvels at her hotel room, she says Mark Cuban takes care of her. Rob admonishes her and tells her she's crossing boundaries (again). Kris blindfolds Khloe and takes her for a ride for a big surprise. They end up at an airstrip where Kourtney and Kim Kardashian disembark from a private plane. Khloe is very excited to see her sisters, but the private plane makes Khloe suspicious. Kris innocently says it was arranged through a business associate, but Khloe knows just who that associate is. The family attends the Mavs game that evening and of course Kris gets them a great box. In fact, it's Mark's box. Kourtney wants to know why Kris has the box if she knows Khloe wouldn't approve. It was offered to her Kris counters. Still, Kourtney insists, she didn't have to take it. When Mark's business partner walks in, Khloe realizes what Kris did and leaves the box with Kourtney. She doesn't want it to seem like she and her family are getting special treatment that the other Mavs players families don't get.
Rob says he can't wait to leave and get back home. Kris tells him how much Lamar would want him to be there, that it would make Lamar happy to know Khloe is not alone. Kim joins in with the pressure. Acting as a Mom, Kris tries to give Lamar a pep talk about his recent troubles with the new team. Lamar is grateful for her encouragement. Out at dinner, Lamar tells Kris he heard she was in Mark's box, but he doesn't mind, he was just happy to have the family support. Rob intends to go back with the family to L.A. Later on the doorbell rings at the Khloe and Lamar's condo and it's Rob. He decides to stay.
On next week's Khloe and Lamar, Malika comes to Dallas and Rob causes trouble. Catch it Sunday, May 6 at 10 p.m. on E!