This week we were treated to a double feature of Khloe and Lamar. If you missed the season premiere Sunday night, click here for recap and video clip. On Monday's episode 2, Lamar's constant insomnia disrupts Khloe's life and Malika has a new boyfriend whose baggage is cause for concern.
Malika introduces her boyfriend Adrian to Khloe and Lamar. He's separated from his wife of 9 years and has 3 kids, the youngest being only 1. Khloe's guard is up right away, and she tells Malika she's she wants her to keep her eyes open. Malika suffered from her own parent's divorce and is actually breaking her own rule about dating someone with kids.
With the NBA lockout underway, Lamar finds himself with insomnia. He repeatedly disturbs Khloe's sleep at night. He wants her to stay up and hang with him. She's yawning through photo shoots and can't function during the day. Big sis Kim Kardashian makes an appearance, telling Khloe her body clock being off could affect her chances of getting pregnant.
Out on a walk together, Malika and Khloe discuss the Adrian situation. Malika thinks Khloe is being judgmental because Adrian is still technically married. Khloe thinks it's Malika's own insecurities that are upsetting her. Malika ditches her and runs to her sister's house. She cries to her sister that she doesn't want to be in the way of Adrian and his family being together, if in fact she is the one keeping them apart. . Her sister urges her to talk to Adiran directly. Adrian tells her it's not her fault his marriage didn't last, and she should not feel guilty. Malika is still unsure, because she's worried how his kids will feel.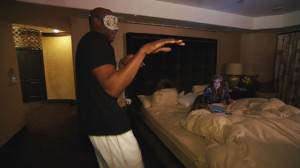 Khloe researches ways to get Lamar to sleep so that she can have some peace. Foot massages, weird night sounds and warm milk. Unfortunately this all has the opposite effect. Out of desperation Khloe spikes Lamar's tea with the sleep aid melatonin. She's busted when Lamar sees things floating in his tea and dumps it in the sink. Malika stops by and tearfully tells Khloe she and Adrian broke up. Even though she was in love with Adrian, the situation was not for her. Khloe is proud Malika did the right thing for herself
Lamar finally realizes how selfish he was being because of his insomnia and puts Khloe to bed. So what does he do? Calls his best friend Jamie to come over for a late night hang out.