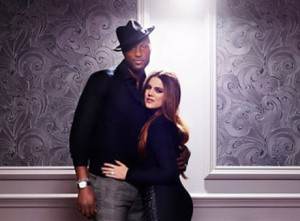 Pressure mounts around Khloe and Lamar with Lamar's lackluster playing in Dallas and the attention focused on the couple's inability to conceive.
Lamar isn't playing well on the court and has become depressed. He's being made to sit out much of the games, and not only is he being questioned by the press, his former Lakers coach contacts him to ask whether he is injured.
Khloe is feeling pressure from everyone about having a baby, including Lamar's grandmother. Momager Kris sends her a text stating that a magazine has pictures of her leaving a fertility clinic that day and needs to know if it's true. Since Khloe hasn't left the condo all day, it's impossible she claims. Big sister Kim Kardashian arrives in Dallas for a visit. Khloe is looking forward to spending time with her since she is mostly alone all day. Immediately Kim asks about Lamar and Khloe says it will take him to make this adjustment to the new team. She also points out that the murder of his cousin a few months prior deeply affected him. She feels that Lamar never fully mourned the death of his infant son, and another loss in his family has traumatized him.
The sisters talk about Kourtney's second pregnancy and. Kim asks Khloe outright if she was jealous when she heard Kourtney's news. She won't admit to being jealous, but does marvel that Kourtney was able to get pregnant so easily while claiming she was barely having sex with boyfriend Scott. Khloe is showing obvious signs of strain when she complains to Kim about receiving surrogate service offers from fans. Kim is immediately worried for Khloe's state of mind
Lamar has another bad game and is surrounded by press who want to know how he feels about his playing. He admits he was sad to leave home but says things can still look promising in Dallas. Over dinner Kim asks Lamar about his adjustment to Dallas. He talks about the speed with which he was traded and sent to the Mavericks, which seems to bother him the most. He's always used basketball as a way to work out his stress and feels he can't even do that anymore. The conversation turns to Kourtney's pregnancy and Lamar admits to being jealous about Kourtney's second pregnancy. Khloe is shocked but Lamar tells her it's a normal emotion in this case.
Khloe and Kim take in the sights of Dallas. A black and white animal at the aquarium leads Kim to mention Khloe's potential children. Kim suggests a bunch of things like in vitro, getting Lamar checked, etc. Khloe finally blows. She yells at Kim for adding to her stress, claiming their mother, Kourtney and the press put way too much pressure on her, and doesn't anyone realize that stress can prevent a person from getting pregnant?
Later that night Khloe calls Kourtney to vent about Kim's pressure. Kourtney reminds her that Kim doesn't mean to upset her, she's trying to be helpful. Kourtney reassures Khloe that everything happens when it's supposed to happen. Kim attends s Mavericks game with Khloe who apologizes for her outburst. Kim says she always there to help her. As luck would have it, Lamar plays a fantastic game.
On next week's Khloe and Lamar, Lamar returns to L.A. to play against the Lakers, and Khloe is at odds with Jamie once again. The next episode of Khloe and Lamar airs on Sunday, April 22 at 10 p.m. on E!