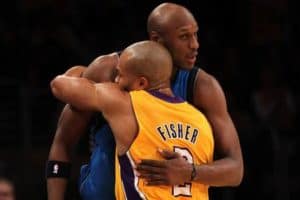 This week on Khloe and Lamar, the pressures continue to mount for the couple, as they return to Los Angeles where Lamar must face off against his former team, the Lakers. His relationship with his Mavericks team members is improving and Lamar is beginning to feel like his old self again. But when he finds out he has to play against the Lakers, he feels weird and emotional about it. He is concerned that the Laker fans know the truth, which is that he never wanted to leave.
Khloe and Lamar return to their home which feels more like tease than comfort. Jaime and Lamar are reunited but all Jamie can talk about is how he feels like he got traded too and doesn't get the VIP treatment around town any more. When Khloe overhears him ask where his game tickets are, she just shakes her head at his insensitivity. Lamar complains to Khloe that Jamie doesn't seem to get how deeply this trade affected him because he's so wrapped up in himself. Khloe doesn't like to see her husband in pain, so Jaime better look out.
While visiting with Malika and Khadija who know Jamie all too well, Khloe fills them in on Jaime's selfishness. They urge her to confront him. Jamie stops by the house, telling Khloe he's there to pick up the Laker tickets. She tells him how bad he made Lamar feel. Jamie thinks he took it the wrong way but even his attempt to clean it up still sounds selfish. Khloe tells him Lamar needs him to be a good friend. Jamie calls him to apologize which Lamar appreciates.
On game day, Lamar is nervous but ready to play. Walking in to an arena full of memories, Lamar thinks he's in the twilight zone and the press is having a field day with his 'emotional homecoming.'Lamar just wants to play and get it over with. Meanwhile, Kris Jenner is doing her best to hobnob with the Mavericks crew, Mark Cuban in particular. When Lamar gets on the court, he receives a standing ovation. Lamar is feeling the love as the stadium flashes a welcome sign on the screen for him along with highlight footage of his career. Lamar plays a good game, but the Mavericks lose to the Lakers by 3 points.
On next week's Khloe and Lamar, Kris Jenner is trying to get close to Mavericks owner Mark Cuban, and Khloe wants Rob to move to Dallas to help Lamar. The season finale of Khloe and Lamar airs Sunday, April 29 at 10 p.m. on E!