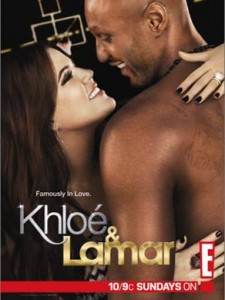 The E! Channel PR rep is single-handedly destroying my resistance to never watching any reality television. First she got me addicted to Kourtney and Kim Take New York (and then watched the whole season), and now I've watched the premiere episode of the newest Kardashian reality show: Khloe & Lamar.
First, a little background. Khloe and Lamar got married after only thirty days of dating. He's a long-time NBA player and currently plays for the Los Angeles Lakers, while she's a reality star and the co-owner of the clothing store DASH, with her sisters Kourtney and Kim. This show takes place primarily in Los Angeles, where the two live in their own house, along with Khloe's brother, Rob Kardashian, and Khloe's assistant/friend Marika.
Khloe and Lamar are probably the two members of the family I know the least about, but I actually kind of like them. Khloe's pretty sassy and kind of unapologetic, and Lamar actually seems fairly normal. He had a pretty bad childhood though, which is the subject of the premiere episode. His father was a heroin addict who, while clean now, is kind of a deadbeat who calls up his son just to ask for money. Lamar is understandably wary of having any kind of relationship with his father. Khloe, on the other hand, doesn't really know the reality of the situation, and attempts to get the two to reconcile, until Lamar shows her what his father is really like.
The other focus of the episode is Lamar's possible invitation to play in the year's NBA All-Star Game, and Rob Kardashian's invitation to the celebrity All-Star game.
The truth is, if I'm going to like reality, I kind of want to see some crazy stuff during the episode. Khloe and Lamar are actually kind of cutesy and loving together. Good for them and their relationship, of course, but not terribly exciting for me. The stuff involving Lamar's father is actually kind of bad, but also sort of uncomfortable to watch, because it's really sad. I'm hopeful that some of the other Kardashians besides Rob will make an appearance in the 8 episode season (besides Kourtney, who appears for a few minutes to do a book signing with her sister), if only to see some extended family conflict. A short preview at the end of the episode shows some upcoming fights and problems. I don't want to see reality stars going totally nuts on each other on television, or breaking up, but I do need some entertainment and pretend fights every once in a while. Fortunately, the show seems to be setting that up going forward.
Tune in to the premiere of Khloe and Lamar tonight at 10:00 p.m. ET on E! Channel. Below are a few sneak peeks from the premiere episode, mostly surrounding the problems with Lamar's father, Joe.
clarissa @ tvovermind.com
twitter.com/clarissa373
twitter.com/tvovermind