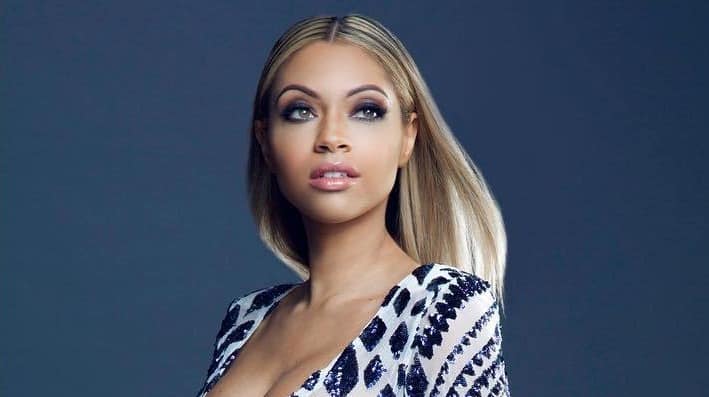 It's so easy to say something about anyone once you read a little bit off of the internet that it becomes simple to slander them and try to ruin a reputation here and there for no better reason than because you can. Kia Proctor doesn't have a whole lot on her that's not attached to Carolina Panthers quarterback Cam Newton at this point, but she's been working rather hard to let go of the stripper and party host life to focus on being a longtime girlfriend, mother, and model these days. That seems like it's enough to give a person a break and say 'good job' but as you might already know enough people are more than willing to latch onto what they see as negatives and ride them all the live-long day. In this instance it's a preferable to simply state that like everyone she does have a past and she's moved beyond it at this point as she tries to live her life in the best way she can.
Here are a few things you might not have known about Kia.
10. She's been dating Cam Newton for a while.
Their relationship seems to have started back in 2013 when they were first seen stepping out together and since then it seems to have blossomed into something that's pretty serious even though they haven't been married. When you have kids together it's still more serious than anything else that might be used to describe the relationship.
9. Kia was a stripper for a while when she was younger.
This is true, and it's something that others might look down on her for since showing your naked body to strangers for profit seems to be something that a lot of people would vilify her for or at least look down their noses as they harrumph and wonder just what Newton is doing with her. So she stripped when she was younger, big deal.
8. There's not a lot known about her life before she hooked up with Cam.
As far as personal information goes there's not a whole lot on Kia at this point since it seems as though her professional life in the spotlight seems to have started when she and Cam hooked up and the media took note of her. Apart from that there's not a lot that anyone outside of her most trusted circle really knows.
7. As you might have guessed she's been called a golddigger by a lot of people.
This label is just waiting in the wings for anyone to use when it comes to a person that has next to nothing, as people assume, hooks up with someone that's worth millions or more. There's no doubt that her motivations have gone beyond that point since having kids can be all about getting more money, but it doesn't seem to be the case here.
6. A lot of her fame seems to be tied to Cam Newton.
She's definitely trying to figure out her own life and do her own thing but until the media gets wind of it she's likely going to be attached to Cam at the hip when it comes to being noticed for anything that might make her a celebrity. Until she gets that notice that's all hers this is going to be the way of it.
5. She's pretty active on social media.
This is a good way to go if she wants notice that's entirely focused on her career since enough people are willing to follow those that are striking out on their own and making a name for themselves that it still exists as a useful tool.
4. There's not a lot of information on whether she went to college or not.
It's not hard to think on why a person wouldn't be fully forthcoming with as much information for people to see when it comes to being famous. The more a person puts out there the more the media and anyone with an opinion will tend to dig in order to find something that could be construed as a weakness.
3. She's become a model throughout the years.
She is definitely trying to be something that goes beyond what she was when she and Newton met and so far it sounds as though it might be going pretty well. Now all she really needs is a push into the spotlight where she stands alone.
2. Her net worth isn't really known.
At this point it doesn't seem like anyone is really stressing over what her net worth is since she's attached to Cam Newton, who has a net worth that's well over $40 million, meaning that she's well taken care of and doesn't want for anything. Perhaps one of these days someone will figure it out and write down a number.
1. She's in her early 30s.
Accomplishing this kind of life by the time you're in your late 20s to early 30s is pretty impressive.
More likely than not she and Cam are bound to stick together for a good long while.