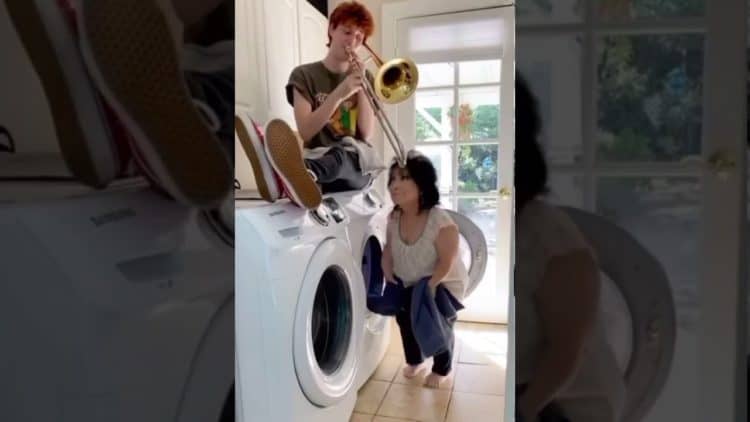 Does anyone get the feeling that this mother has to put up with a lot from her kid from time to time? There are plenty of parents that might look at this and state that the instrument would be hidden away after the first day of the kid deciding to create sound effects for every possible action, but there are also plenty that might see it as good fun so long as the kid wasn't being too obnoxious about it. In a world where people get easily offended at so many things though, one could easily imagine someone stating that the kid is being cruel to his mother somehow, even if there is an idea that she puts up with a lot and grins and bears it most of the time. To be fair it would be kind of rude to harangue someone like this all day long, no matter if they are your relative and they're asking you to stop, but let's just play along with it since it would appear that the mother isn't getting upset, at least not like the video shows. It's kind of easy to wonder just what she might be saying when the video is off since that could be a different matter entirely.
Kids definitely do plenty to test their parents in various ways since like it or not, a lot of kids are just like their parents in a number of ways that tend to manifest as they grow and are seen to affect their parents in various ways. It would be interesting to see if this kid's father is just as exuberant as he is and loves to be a bit of an annoyance at times. But then there are plenty of times when kids tend to surprise their parents and come up with personality traits that might not belong to their parents but another relative. It's kind of eerie sometimes when this happens since a child can easily emulate behaviors and attitudes that are shown by older family members or those that people don't see that often. This is fairly common in some cases even if it's not seen all the time. How a child learns to act and behave has a lot to do with their upbringing and the kind of environment they're raised in since people will generally react to their parents, their relatives, their friends, and anyone else within their sphere of influence in various ways that will help to define who they are and what they believe in. Sometimes they become decent people thanks to the examples they're given, and other times they might appear to be predisposed to take another course in life for reasons all their own.
It's very hard to predict how a child is going to turn out as they grow up, which means parents are essentially doing the best they can to raise their child to be a decent member of society that has everything they need to grow and develop and to mature into a fully-functioning human being. That's the desire of course, and the story that many of us would like to cling to, since the opposite is just as true considering that there are plenty of people in this world that probably shouldn't be parents due to the fact that they see having kids as something else entirely, but I won't go into that. The point is having kids is definitely an experience that a person is never really ready for and is likely to feel is something that can test their nerves on a rather constant basis. Thankfully this video isn't really the worst it can get and it's pretty mild compared to some experiences since at least it's possible to have fun with this and think that the mother puts up with it since her kid is simply a lively person that likes to have fun. Many kids test the limits of their parents' emotional endurance on a daily basis and for some parents, the idea of the sound effects wouldn't be a big deal since eventually, the kid would probably move on to something else, and unless it happened to be destructive or in any way harmful it's likely that a lot of people would see this as harmless fun.
Those that don't have kids might not think that lightly of something like this, or they might think that they'd be able to weather it easily. But keep in mind those are people that, in some cases, have never had to deal with a kid and their many different moods as they grow from infancy to adulthood. A kid playing sound effects in the house like this is a very minor thing indeed and asking him to stop might not be a simple matter, but it's very likely that he knows how far to push his parents, and when to finally cease and desist.