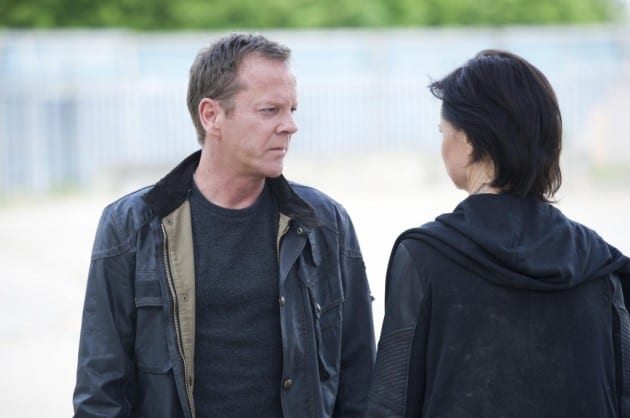 Has time finally run out on Jack Bauer? It seems so.
After FOX resurrected 24 and its infamous protagonist for the highly anticipated (and pretty much critically beloved) limited series event 24: Live Another Day this past summer, there was a possibility that the show could return for a future miniseries-type event, or even the long-awaited film that the show's producers have been talking about since the end of 24's eighth season. However, Â it sounds like series star, Kiefer Sutherland, who won an Emmy for his role as Jack Bauer after the series' fifth season, is ready to move on.
In a recent interview with the UK's Telegraph, Sutherland was asked if he would consider taking on the role again in any future 24 projects, and his answer was pretty clear.
"Me, I don't see going back to it," Sutherland said regarding the idea of doing more 24. "We had set out to do 12 episodes [of Live Another Day] to end the show and deal with some of the past history of the show. It was also an irresistible opportunity to go shoot in England. So for all of those reasons it made sense to do that last season."
Fans will remember that 24: Live Another Day ended with Jack (who had just lost the love of his life, Audrey, after the Chinese shot and killed her) turning himself into Russian authorities in order to save Chloe (Mary Lynn Rajskub). Many fans had speculated that a follow-up film or additional limited series could have focused on Chloe and Kate Morgan (Yvonne Strahovski) attempting to rescue Jack from Russia.
It's quite understandable why Sutherland would want to finally retire the role of Jack Bauer, after having played the character for over 200 episodes, but you can also still tell how much fondness he has for his alter-ego, as he wouldn't completely rule out the possibility of returning as Jack for maybe just one more time.
"I think I said the same thing at the end of Season 8," Sutherland said about his decision to not want to do anymore 24. "So I would hate to be held to that."
Photo via FOX