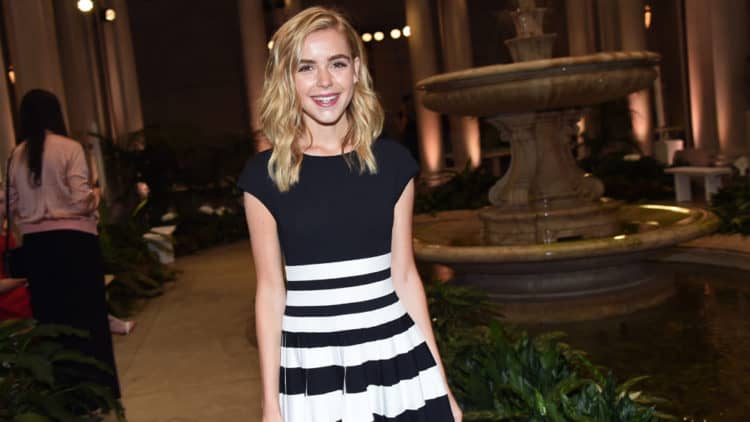 It's not every kid whose parents will up and move to LA to support their acting career, but that's what Kiernan Shipka's folks did when she started on that path to stardom. Those that managed to follow and watch every episode of Mad Men will n doubt recognize little Sally Draper since she's grown up and has moved on to bigger and better things following the show. To say that she's been busy would be kind of an understatement since she's been on a roll landing parts in films and in TV shows even if some of them have been guest or temporary parts. Kiernan has however been picking up steam as she's managed to work with some of the most popular actors and continue to build her career in a way that has painted her as a definite mover in the acting industry but at this point is still waiting for her big breakout role as an adult.
It's coming, you can almost feel it. In the meantime here's just a few clips to show what she's been up to since Mad Men.
Fan Girl
There's not a whole lot to say about this film other than it's about just what it says. A fan girl that happens to like a very popular band decides to make a fan-made film and enter it into a competition and in the process the audience gets to see a lot of what goes on during her daily life. Films shot in this manner aren't always the most sought-after but quite honestly it's not like this throughout the entire film as the moments in which she films herself are few enough in number that it doesn't really detract from the whole thing. But while it might not be a widely acclaimed movie and could possibly just be something to do to keep earning a paycheck, keep in mind it's a move forward no matter how the film did. That's a big part of any profession, moving forward in one way or another.
The Blackcoat's Daughter
If you want a truly messed-movie that will leave chills up and down your spine then here you go. Not only is the film seriously demented and bound to make you wonder just when it will hurry up, but when it finally does and the twists and turns start coming you'll likely be gripping anything that's within reach begging it to stop just enough to let you catch your breath. It does just that, but then hammers you with another twist that might have you wondering just what in the heck you watched and with the insistent need to watch it again. It's one of those films that you have to go looking for to really find, but once you do you might put it back on the shelf or in the back of your mind until you want a good scare again. It's that twisted and yet that addictive of a movie, and Kiernan is actually pretty well-suited for the role.
Chilling Adventures of Sabrina
It seems that Netflix has decided to bring back Sabrina the Teenage Witch in this new series and has chosen Kiernan to be their lead star. While the original series was pretty popular for a while you can imagine that some people might feel a bit nostalgic just hearing about this new and upcoming series. Sabrina is going back to being a high school witch it seems that will try to juggle her high school life with being a witch and do her absolute best to just get through the average life of a teenager. Any of those fans that remember the original show might guess that it's going to be updated and made to reflect the current times and will probably stand a chance of only seeing one season given how fickle things have gotten in recent years. But there's always a chance that Kiernan and her costars could fully revive the show and create some genuine interest that could keep it around for a while.
So in all honesty Kiernan has been busy since her time spent on Mad Men and she's been anything but idle. Obviously this young woman is ambitious and driven enough to create a career that is bound to keep going and going so long as she desires. Her parents are obviously very supportive since they're the ones that helped her to realize the dream by moving to LA, and the determination she needs to continue forward no doubt has a lot to do with the success that she's already achieved and the talent that she possesses. While that will carry her a long ways however it's going to be interesting to see just how she does being the lead character in her own series. To date her track record is pretty good, so hopefully she'll make the transition pretty easily.