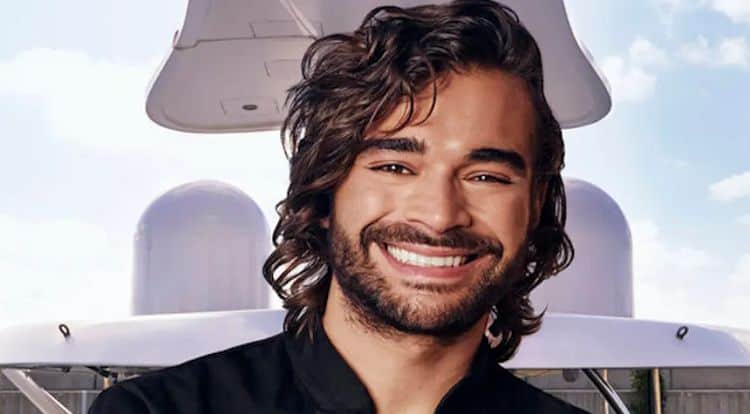 Since it's debut in 2016, Below Deck Mediterranean has been a welcome sister series to the original Below Deck. As the name suggests, Below Deck Mediterranean focuses on cruises yacht cruises in and around the Mediterranean Sea. But ironically, it's not the beautiful destinations that keep viewers coming back for more, it's the drama. This season, however, the addition of new cast member, KiKo Lorran, could help calm things down. As the newest chef aboard the boat, KiKo is already getting lots of attention and viewers think he might have what it takes to bring a different element to the show. Keep reading for 10 things you didn't know about KiKo Lorran.
1. He Wrote A Cook Book
KiKo developed a love for cooking when he was just 8-years-old after watching his mom in the kitchen. He eventually went on to become a professionally trained chef. In 2018, he released a cook book that he authored called The Surfer's Cookbook, however, it doesn't appear to be for sale any longer.
2. He Speaks Three Languages
KiKo's ability to cook isn't the only thing about him that is incredibly impressive. He can also speak three languages: English, Portuguese, and Spanish. Being able to speak more than one language is definitely a handy skill to have, especially when  have a job where you get the chance to interact with people from different parts of the world.
3. He's From Brazil
In addition to having a wide variety of guests, one of the best things about Below Deck Med is that it brings lots of different kinds of people together on the crew. We don't know too much about KiKo's background just yet, but we do know that he was born and raised in Brazil.
4. He Has A Girlfriend
There's no doubt that KiKo's good looks have been getting him lots of attention from fans, even before the show aired its first episode of the season. However, to anyone who was planning on sliding into his DMs, he's off limits. KiKo is in a relationship with Nicole Skwara and the two appear to be very happy together. According to her Instagram bio, she current lives in Hawaii.
5. He Loves To Surf
In addition to cooking, KiKo is also a very adventurous person. One of his favorite things to do when is isn't working is go surfing and he's pretty good at it. KiKo has caught some major waves over the years. He's also had the opportunity to surf in places all over the world.
6. He's Done Lots Of Traveling
Being cast on Below Deck Med is a dream come true for KiKo in more ways than one. Not only does he get to share his love for cooking, but he also gets the opportunity to travel. Even outside of the show, KiKo is a very active traveler who has visited cities and countries all over the world. Some of the places he's been to include Italy, Algeria, France, and Indonesia.
7. KiKo Isn't His First Name
Throughout the season, most people will probably become familiar with KiKo by that name. However, his full first name is actually Hindrigo. The name appears to be very unique and it doesn't have a clear meaning. There's also no information on where the nickname KiKo comes from, but as far as nicknames go, KiKo is definitely a cool one.
8. He Doesn't Have A Big Social Media Following
Although KiKo appears to be fairly active on social media, he doesn't have a large following. His Instagram account has less than 2,500 followers at the moment. However, I have a strong feeling that won't be the case by the end of the season. Once viewers really start to see KiKo in acting, his numbers will definitely go up.
9. He's Good At Taking Pictures
It's starting to seem like KiKo is one of those people who can do it all. On top of his other talents, he also has photography skills. His Instagram is full of beautifully snapped shots of different meals he's made along with amazing  images of the different places he's been on his travels.
10. He Has Two Instagram Accounts
Why have one Instagram account when you have two? KiKo has an account for his personal life and another for his brand, The Surfing Chef. At the moment, both pages have similar content, but it'll be interesting to see if that changes as his social media presence continues to grow.