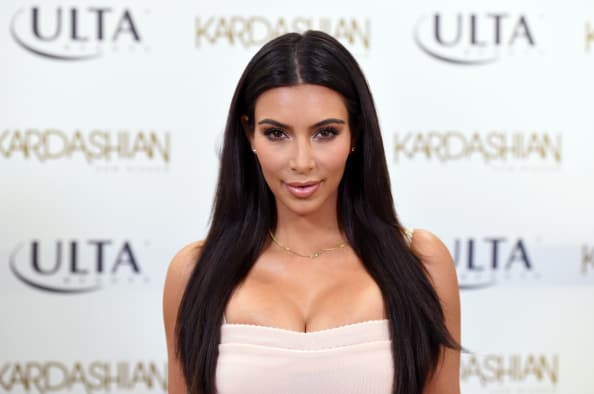 Kim Kardashian is leaving reality TV behind and heading towards sitcom stardom. Well, not exactly. However, the 33-year-old celebrity will be guest starring the season four premiere of the CBS comedy 2 Broke Girls. Kardashian will play herself and help out Max (Kat Dennings) and Caroline (Beth Behrs) by giving their struggling cupcake business a jolt of celebrity spotlight, as first reported by TVLine.
"They need a big bump, and providence sort of smiles on them when they find out that Keeping Up With the Kardashians is doing a segment in Williamsburg, and that they may make an appearance at their shop," executive producer Michael Patrick King said to TVLine about Kardashian's guest spot. "The girls know what that kind of exposure would mean to them. And it turns out there is a bit of a cherry on the ice cream, or the cupcake, because Kim does appear at their window."
However, King stresses that Kardashian's presence will not fix all of Max and Caroline's money problems. The series, after all, is called 2 Broke Girls.
"Because it's a comedy, and because they are broke, it's not a complete silver lining," King said. "But it is an incredibly sparkly star at the end."
The 2 Broke Girls showrunner  also reported that Kardashian had already filmed her scenes for the season four premiere. According to King, the starlet was able to make fun of herself and was a pleasure to work with.
"There are the typical 2 Broke Girls jokes all about [the Kardashians] in the episode," King said. "So, it's fun to see someone have a great sense of humor about herself. She read the script, she thought it was funny and she came. We could've [shot] the exact same [episode] without her – but she was the cherry on top."
2 Broke Girls returns to CBS for its fourth season on Monday, Oct. 27 at 8 p.m.
Photo by Jason Merritt/Getty Images