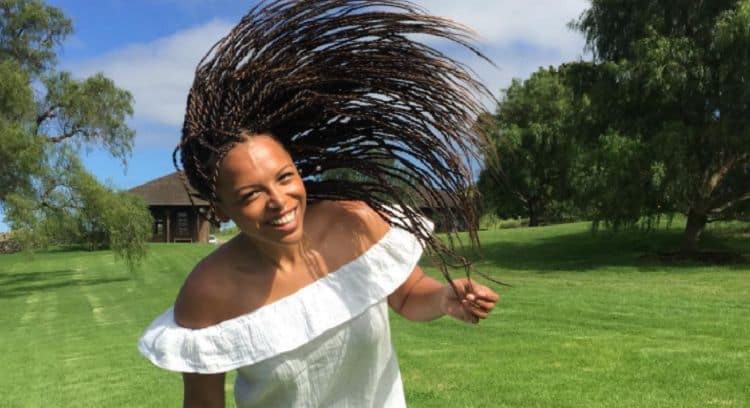 Despite being the daughter of Gayle King, Kirby Bumpus has spent most of her life out of the spotlight. All of that changed, however, when news broke that Bumpus and her husband, Virgil Miller, announced that they were expecting their first child. Kirby's baby will be Gayle King's first grandchild, and it appears that the family couldn't be any more excited about their upcoming addition. The public has also joined in in congratulating Kirby and Virgil. Although we know the baby is due in September of 2021, it doesn't appear that they've yet learned the gender. Keep reading to learn 10 things you didn't know about Kirby Bumpus.
1. She Lives In The D.C. Area
Gayle King calls the West Coast home these days, but Kirby is enjoying life on the other side of the country. Kirby and her husband live in Washington D.C. and it appears that she's lived there for about a decade. D.C. is only about 20 minutes away from her mother's hometown of Chevy Chase, MD.
2. She Used To Work For Under Armour
Since Kirby's mom is best friends with one of the wealthiest women in the world, some may assume that Kirby doesn't work. That couldn't be any further from the truth, however. Kirby currently works at a company called Sweetgreen, but prior to that, that she worked in marketing at Under Armour. Kirby also worked at the White House for two years during the Obama administration.
3. She Used To Play Basketball
During the 80s and 90s, Gayle King worked at a local news station in Connecticut. During that time, Kirby attended a small Catholic school called Corpus Christi where she was a member of the basketball team. It's unclear whether she continued to play basketball in high school.
4. She Loves To Travel
Kirby has always been a very advtenrous person, and she loves to get out and see the world. Luckily, she has gotten to do lots of traveling over the years and places both in and out of the United States. Even though she's already added plenty of stamps to her passport, there are still places she'd like to go.
5. Oprah Is Her God Mother
Not only does Kirby have a very successful mother, but her godmother is none other than Oprah Winfrey. Some sources have reported that Winfrey is also godmother to Kirby's brother, William. Kirby and Oprah have a very close relationship. In fact, Kirby and her husband had their wedding at Oprah's estate in Santa Barbara.
6. She Is Passionate About Health And Wellness
Kirby's days as a competive athlete may be in the past, but that doesn't mean that her love of staying active is gone. Kirby is a very big believer in the importance of self care, and part of her self care routine includes physical activity.She loves to exercise and enjoys doing a variety of workouts. In addition to being serious about her own health and wellness journey, she also likes inspiring other people to do what they need to do to take care of themselves.
7. She Loves Trying Different Foods
Sure, we all need food to survive, but to many people food has a much more important role than just providing sustnenace. Food is a great way to connect with different cultures, and Kirby enjoys trying different dishes. Her love of food definitely pairs well with her love of traveling.
8. She Is A Stanford Alum
Education has always been important to Kirby, and she had the opportunity to attend two of the most well-known colleges in the country. Kirby attended Stanford University where she earned a bachelor's degree in psychology and human biology. She then went on to Columbia University where she earned a master's degree sociomedical sciences.
9. She Loves Nature
Thanks to her mom and Oprah, Kirby probably grew up around lots of nice and expensive things. Sometimes, however, it really is the simple things that bring the most joy, and for Kirby, one of those things is nature. Kirbyy enjoys spending time outdoors whenever she gets the chance. Some of the things she likes to do include hiking, swimming, sledding, and yoga.
10. She Is Fairly Private
Because of who Kirby is, she could've easily gotten as much attention as she wanted. However, that has never really been of interest to her. For the most part, Kirbky has avoided the spotlight and she has never shared much information about her personal life. That being said, she does have a pretty signifigant following on Instagram and she is pretty active on the platform.