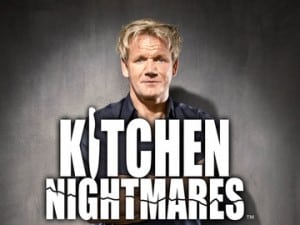 Fox announced today that Kitchen Nightmares is officially set to premiere its fifth season on October 26th, bumping the Kiefer Sutherland drama "Touch" from the fall lineup and moving it to a January 2013 start.
Kitchen Nightmares, another reality show from everyone's favorite patience impaired chef, Gordon Ramsay, features small struggling restaurants who have reached out for help to avoid closing down. On the show, Ramsay visits the restaurants and delivers the cold hard truth to owners who are often delusional about the reasons their restaurants are tanking in the first place. Nothing is off limits on Kitchen Nightmares with Ramsay often changing the menus, décor, and even employees if necessary.
Although he pulls no punches when it comes to discussing the restaurants' flaws, Kitchen Nightmares often offers viewers an opportunity to see a bit of a softer side of Gordon Ramsay as he gets involved with the families that are often falling apart due to the hardship of operating a struggling business.
For the fifth season of Kitchen Nightmares, Gordon Ramsay travels to Brooklyn, Boston, Pittsburgh, and the suburbs of Los Angeles and Cleveland to lend his hand and expertise to the owners of struggling restaurants.  Whether or not these owners get passed their own pride and set in ways to make the changes necessary in order to succeed remains to be seen, however, one thing is for certain, Ramsay isn't going to let them go down without a fight.
Kitchen Nightmares premieres its fifth season October 26th at 8/7c on Fox.