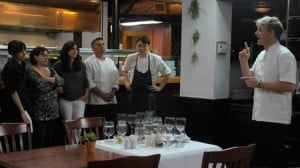 Last week, Kitchen Nightmares returned for its fifth season with the first in a two part special in which Chef Gordon Ramsay headed La Galleria 33 restaurant in Boston. What he found when he arrived was nothing short of a virtual disaster with two stubborn owners who refused to acknowledge their poor food, increasing debt, and bad attitudes.
Rita and Lisa, the sister duo that owns La Galleria 33 in Boston, did little to hide their short comings from Ramsay as he observed problem after problem with the function of the restaurant. In tonight's episode of Kitchen Nightmares, Ramsay forces the sisters to actually sit down with their staff and confront them on the issues they are having, which does not go over very well with the fed up staff, even leading one server to storm out and leave.
After trying to clear up the attitude problems in La Galleria 33, tonight Ramsay sets his sights on the menu and atmosphere of the restaurant, making a complete overhaul of both. Once all of Ramsay's tweaks and changes are in place, his biggest challenge is certain to be getting Lisa, Rita, and Head Chef Doug to accept them and move forward to save La Galleria 33.
Kitchen Nightmares airs Fridays at 9/8c on Fox.