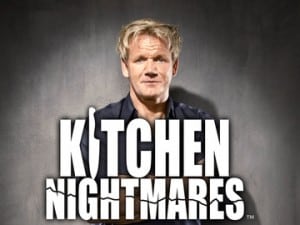 For those of you who have been in Gordon Ramsay withdrawal since the season finales of Hell's Kitchen and Masterchef, never fear, you're wait is almost over.  In two weeks, Kitchen Nightmares returns for its fifth season with Chef Gordon Ramsay heading to Boston.
One of my favorites amongst the Gordon Ramsay reality television shows, Kitchen Nightmares takes the fiery chef to struggling restaurants around the country to help them make the much needed changes in order survive in the restaurant business. With often delusional owners, disgusting kitchen conditions, and always a good helping of conflict between the staff and/or owners, the show takes Ramsay out of his own pristine working conditions and right into someone else's nightmare of a kitchen, hence the name.
Kitchen Nightmares will kick off its season premiere with the first in a two part special in which Ramsay heads to the historic North End of Boston to visit two sisters who own and operate an Italian restaurant called La Galleria 33. The sisters, Rita and Lisa, despite having called in Gordon Ramsay for help, are in a serious state of denial when it comes to the short comings of the restaurant and themselves, leaving both the staff and customers less than happy.
A huge amount of debt and a menu filled with bland inedible food aren't these ladies only problems, however, as they have lost control over the staff in the restaurant due to their own bad behavior. When Ramsay forces the explosive sisters to have a sit down with the staff to discuss the problems, tempers fly and cause one server to storm out. Â With so many problems that need to be fixed, Ramsay looks to certainly have his work cut out for him if he is to help save La Galleria.
Kitchen Nightmares premieres its fifth season Friday, October 26th at 9/8c on Fox.