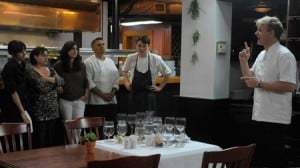 He's Back… Everyone's favorite patience impaired chef, Gordon Ramsay, returns to Fox tonight for the season 5 premiere of Kitchen Nightmares. The show, unlike his other reality show Hell's Kitchen, takes Chef Ramsay out of his own environment and into the restaurants of struggling owners across America to try to find what went wrong with their businesses and how to make the restaurants a success once again.
Tonight's season 5 premiere of Kitchen Nightmares kicks off with the first of two parts in which Chef Gordon Ramsay heads to La Galleria 33 in Boston to try to help a sister duo save their failing restaurant.  The sisters, Rita and Lisa, prove to be a bit of a handful right away when Chef Ramsay realizes that the only thing bigger than their mounting debt is their bad attitudes towards the customers and staff.  With the owners in such a state of denial over their flavorless food and customer satisfaction (or lack thereof), Chef Ramsay certainly looks to have his work cut out for him if he is to help get La Galleria 33 thriving again.
Kitchen Nightmares premieres its fifth season tonight at 8/7c on Fox.
Stay tuned next week for Part 2 of La Galleria 33.