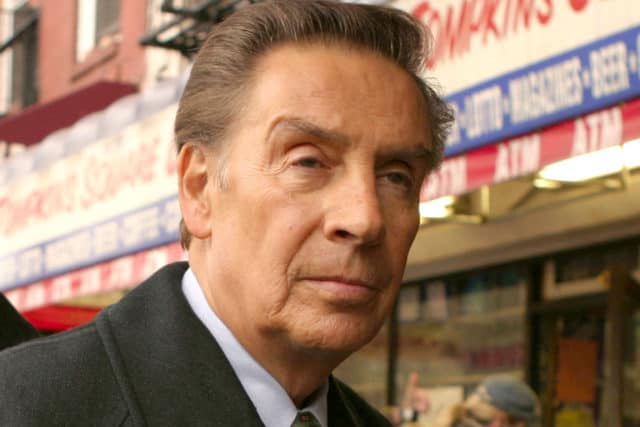 It's true! Artist Brandon Bird has been such a devoted fan of Law & Order, and Jerry Orbach, that he decided to create a tribute car in Orbach's memory. He learned about Orbach's untimely death from a friend who called to give him condolences. For Bird, it was if one of his family members had died. He thought Orbach was cool guy and a great actor. Bird decided to work through his feelings about it by creating the ultimate Orbach artwork. He raised about $23 thousand on Kickstarter to create the car. Bird now feels that the car was a gift, and he believes it should go out into the world and do some good itself. He decided to purpose the car into what he called "a rolling tribute" to Orbach.
The car is a Ford sedan painted in shiny rich gold. Over the base color, Bird added his own original images of Orbach combined with original images of Americana. There is a Bald Eagle, the American flag with mountains behind, a cityscape of New York City where Orbach spent years performing musical theater on Broadway and making Law & Order. It also features some angelic scrollwork décor around a portrait of Orbach which is designed to acknowledge his passing.
The car is not the first time Bird included Orbach in his artwork. Bird enjoys combining artforms with unexpected subject matter. He created Law & Order Valentines and a Law & Order coloring book. The coloring book "Law & Order: An Adventure to Color!" was presented on Late Night with Conan O'Brien, to Jerry Orbach himself, in January 2004. The coloring book includes dead body outlines from crime scenes. When Orbach saw it, he smiled that wide open, wonderfully charismatic smile he had, and belly-laughed.
Orbach is the subject matter of several fine art works painted by Bird. Bird often works in oil paint on canvas, but he is comfortable with a wide variety of art media such as digital mediums or pen and ink. He was invited to be the artist-in-residence at Risley Residential College of Cornell University from 2004 to 2006. He enjoys organizing what he terms "weird art shows". Two were based on Law & Order:
Law & Order: These Are Their Stories, 2010
Law & Order: Artistic Intent, 2003
He's also created his own artworks including Jerry Orbach:
Vulture Man — this is a portrait or Orbach featuring long, long legs
A Night Away- this includes Orbach and Sam Waterston playing the guitar and singing around a campfire
Bird's website was awarded a People's Voice 2005 Webby Award, Category: Weird. He enjoys painting historic and pop culture figures in situations which are frankly absurd. Newsweek featured his paintings in a gallery in 2010. It included an overview of his inspirations for his works. He belongs to the International Academy of Digital Arts and Sciences as an associate member. Bird was born in California in 1980 and attended the University of California, Santa Cruz.
In his artist website, Bird writes that by 2003, he was watching Law & Order every night for three hours or more. The art show "Law & Order: Artistic Intent" was the result. More than thirty artists came from around the country to participate and exhibit in Santa Cruz, California. By 2010, "Law & Order: These are Their Stories" was exhibited in Los Angeles. Forty-seven artworks based on each artist's interpretation of one-line episode summaries taken from the DirecTV program guide were exhibited from July 24 through July 30.
Brandon Bird was a Regents Scholar when he attended UC Santa Cruz. Not bad for a self-proclaimed artist geek who once developed a project for students to write a yearly Christmas letter to Christopher Walken. Not bad for the guy who drew a self-portrait with a Wookie hanging onto his leg. Somehow, Bird just thinks with what some have called "wickedly" random juxtapositions of subject matter. Consider the randomness of a Jerry Orbach Tribute Car. Hmm. Why not?