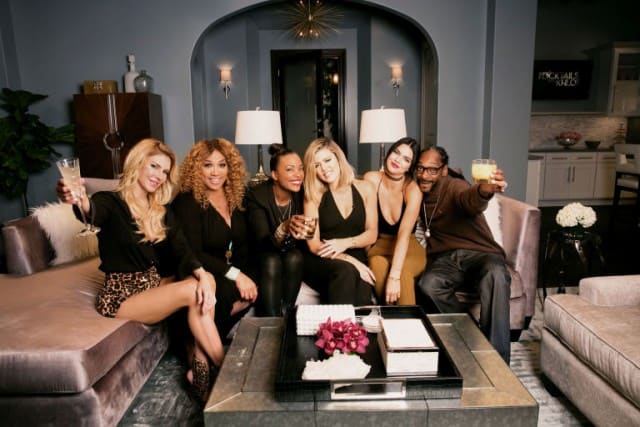 If Keeping Up With the Kardashians doesn't fulfill your desire for Kardashian drama, then FYI's new series Kocktails with Khloe will certainly do the trick. The weekly talk show, which features Khloe, her friends, family, and other celebrities getting together to drink and discuss different topics, kicked off tonight on FYI, and it was quite the memorable first episode. Khloe opened up about her divorce, and Snoop Dogg discussed marijuana and the actor who portrayed him in Straight Outta Compton; however, perhaps the biggest moment of the night came when Khloe and Kendall teamed up to prank call their sister, Kim, and convince her that Kendall was pregnant.
In the videos below, you can see how the prank call plan came together and how Kim reacted to the news before she found out it was all a joke. Check it out:
In addition to the prank they pulled on Kim, Khloe, Kendall, and the rest of the women on the show also shared their opinions on different men, including Straight Outta Compton star O'Shea Jackson and Grandfathered's John Stamos. And while all of the ladies agreed that they'd sleep with Stamos, there were some different opinion on Jackson. Check out what they said below:
Kocktails with Khloe airs Thursdays at 10 p.m. on FYI.
Kocktails with Khloé raises the bar on the fun, surprising and real conversation that happens when friends get together at home to dish on their lives, pop culture, fashion, celebrity gossip and more. The series will reflect what Khloé does at her own home: hosting meals, sharing opinions and experiences, encouraging fun and honesty, and inviting friends to join the party. Taped in Los Angeles, the non-traditional set for Kocktails with Khloé is designed to replicate a true, intimate home environment; as such, it will feature a functional kitchen, dining area and living spaces — but it will not include a studio audience. In each episode, celebrity guests — including Khloé's friends and family — will join her in the kitchen and around the table for a lively dinner party where engaging and relevant conversations will pair with cooking, party games and, of course, Kocktails. Adding to the elegant and fun party atmosphere will be Chef Sharone Hakman who will collaborate on menus and assist in entertaining.