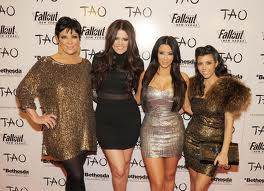 This week's Kourtney & Kim Take New York finds a glum Kim turning 30 in Las Vegas, while Kourtney and Scott grapple with his demons from the past. Keeping Up With The Kardashians fans may recall Kim's 29th birthday in Las Vegas, during which a drunken Scott became violent and nasty, turning Kim's birthday into a disaster.
Long dreading turning the big 3-0, Kim makes plans to celebrate her milestone in Las Vegas with a bevy of family and friends, and anyone lucky enough to be hanging out at the Tao Nightclub that night. The drama unfolds as soon as mom Kris Jenner finds out Scott is coming. Haunted by the Scott debacle at Kim's birthday last year, Kris threatens not to come. For his part, Scott feels being in Las Vegas will be a good opportunity to prove how far he has come since last year. The sisters convince Kris that Scott deserves the chance to prove himself.
The morning of the trip arrives and Scott is nervous. Walking through the Las Vegas airport, Scott is overcome by anxiety with the Vegas vibe looming over him. Unsure that he can control himself, he'd rather skip the party than risk losing his family again. Kourtney respects his decision and Scott heads back to New York.
At the hotel, Kris arrives with Khloe and brother Robert. The family discusses Scott's decision and agrees he did the right thing. Kourtney is relieved, and sets out to enjoy her sister's birthday. The one who can't enjoy it is Kim. All dolled up and headed to the club, Kim feels like she's becoming an old troll. At Tao, things don't get any better for Kim, especially watching her mom Kris party and dance like it's her 30th birthday. Drinking it up and grinding on gossip columnist Perez Hilton, and anyone else who will let her, Kris is having a blast, much to the embarrassment of her daughters.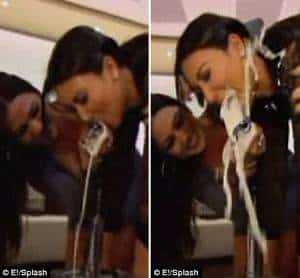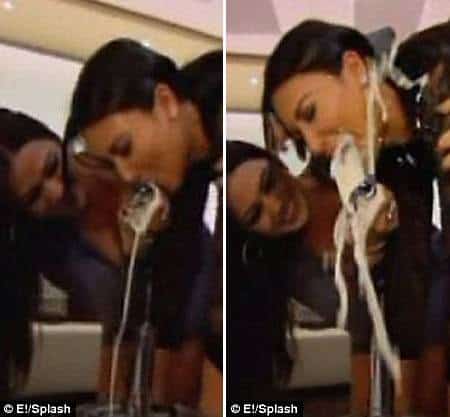 The club party makes Kim feel more down. At 3am Kourtney and the other girls decide to wake Kim up and throw her a frat party. A keg is brought in and guess what? Keg stand time! Kris goes first. I can just imagine how horrified hubby Bruce Jenner was to see this on TV. Kris'keg stand is the highlight of Kourtney's life while Kim just sighs 'there are no words'. Eventually Kim gets lifted in the air for her keg stand, and Kourtney is glad she forced Kim to have some fun. The pic to the left is both Kris and Kim enjoying their beer.
Back in New York, Scott discusses how he is feeling over cigars with his friend Dolphin. He's feeling disappointed in himself that he can't seem to fit in or trust himself to be good while in Vegas. Dolphin suggests they go out, but Scott resists the temptation. Kourtney arrives home and finds out how depressed Scott has been. She manages to cheer him up, telling him his decision this week shows growth and maturity and makes her hopeful for their future. Seems Kourtney saved everyone's week. To make it up to Kim, Scott throws her a surprise birthday dinner and toasts her with a glass of water. All's well that ends well, as Kim realizes there is life after 30.
Can't forget Khloe — her classic line of the week? 'Favorites, favorites, we all have them'she singsongs at Kim as she hugs Kourtney in her lap. Nice, like Kim wasn't feeling bad enough! A special treat for fans; you won't have to wait another week for your Kardashian fix; a new episode of Kourtney & Kim Take New York will air Monday, February 21 at 10pm (EST) on E!.