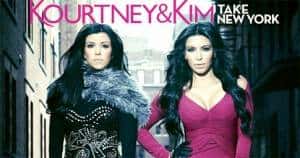 So this was my weekend of disappointments. First, Little Fockers ruined for me what should have been an awesome comedic trilogy, the Jets blew New York's Superbowl dreams, and then there is Kourtney & Kim Take New York. I had high hopes for the show's premiere, as I truly enjoy this famous- for-apparently-doing-nothing family, but it just didn't do it for me tonight. Kourtney admits on the show that she and Kim aren't close as they were when they were children, and it shows. Although one reason they move to New York together is to bond, they aren't yet creating the TV magic that Kourtney and Khloe had on their Take Miami show or on Keeping Up With The Kardashians. Khloe's strong personality, temper and acerbic wit, and I can't believe I am saying this, were sorely missed on this show. The tension and contention Khloe creates with almost everyone, which probably drives her nearest and dearest nuts in real life, is actually great TV fodder, now that I've seen her sisters without her.
Not to say there wasn't anything interesting going on. There was some sister drama of course. Kim is in town to do the town, and is upset that Kourtney bails on her, preferring to be back at the penthouse with her baby. Kim also took issue with Kourtney for allowing her improved relationship with boyfriend and baby daddy Scott Disick to encroach on their sister time, and is barfing, somewhat enviably, at all the lovey dovey action going on.
The problem for viewers was, the sisters handled it maturely and reasonably, and the conflict resolved pretty quickly. We needed Khloe to drag it out and add some bleeped out curses and lots more tension. Another subplot of the show that was meant to be dramatic but was really kind of ridiculous was Kim's being shocked by a tabloid report of a budding romance with a guy she had just ended a date with minutes before. Um Kim, you had your date at the famous Serendipity, complete with camera crew on hand, but you question how the press found out? I would rather see you question why your date would only spring for a dessert place and not a full dinner! The one saving grace of the show was in fact Scott, the beloved naughty but rehabbing bad boy. He provided his brand of bawdy but good natured humor and had a way of saving what could have been a few boring scenes.
I'm not writing this show off by any means, as following these rich and famous girls around town will be fun. I think the Kourtney and Kim chemistry will grow over the next few episodes, as they get more familiar with working together one on one. A bonus is that we will soon see Scott return to his bad boy ways one night, getting into a brawl at a nightclub. With Khloe in attendance, there are bound to be big consequences for Scott. And that's what makes a good Kardashian TV show. On to next week!