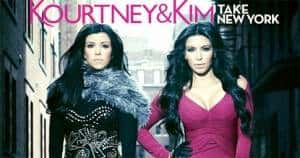 This week's Kourtney & Kim Take New York, appropriately titled 'Sexy in the City', sees the return of Kim's sexy former bodyguard Shengo Deane, with whom she shared a kiss on last season's Keeping Up with the Kardashians. Kourtney and Scott's latest conflict is over a Rolls Royce, which Scott feels he needs to move up the corporate ladder.
Sexy Australian Shengo emails Kim to let her know he is town. What's he doing in New York? Scott humorously suggests maybe he's here 'to protect Kim's ass.' Kourtney reminds Kim she promised herself to stay single while in New York, and warns her about falling in love too quickly. Kim admits she can't resist him, as memories of their last make out session and his sexy accent come flooding back to her. Even Scott admits to getting hot at the sound of Shengo's voice.
Kim and Shengo meet for a dinner date. Despite her best effort to keep it casual, Kim ends up giving Shengo the tour of the penthouse, ending at her bedroom. Kim shuts the door on the camera, which then shoots them through the bedroom window. Shengo closes the blinds. The next morning, the camera is back in the bedroom as Kim and Shengo wake up, with Kim musing how nice it is to wake up with someone again. Kim joins Kourtney in the living room for a morning business meeting. Shengo does the 'walk of shame'straight through the meeting and out the door. Kim spends the rest of the day in texting bliss with Shengo ignoring Kourtney's I told you so's. They have another date at a pool hall after which Kim says she will be going to his place.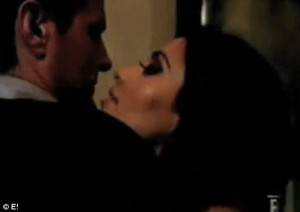 Scott, anxious to impress his boss Keith, goes on a spending spree this week. After Keith treats Scott to an expensive custom golf club set, Scott picks up a hefty dinner tab for Keith and his business associates. Next, Scott accompanies Keith to a Bentley dealer to help him pick out a new car. Not to be outdone, Scott expresses interest in buying a Rolls Royce for himself. He then wavers, and considers out loud how Kourtney will react to this expense. No sooner does he back down when Keith's friend 'The Gooch' mocks Scott's manhood. Scott caves to the pressure and inks the deal. Uh oh.
Scott picks up Kourtney for lunch outside the hotel in his new Rolls Royce. Once inside the car, Kourtney learns that Scott bought the car, and is not pleased. She refuses to go to lunch, saying the car is ridiculous and embarrassing, and storms out. Scott follows her upstairs where they hash it out. Scott explains he's doing it for business while Kourtney points out the purchase is irresponsible to their family. The conflict is resolved as Scott calls his boss to tell him he's not going to keep the car. Scott thanks Kourtney for "knocking some sense in to him". Can I get a page out of Kourtney's book? Hell, give me the whole book. This woman knows how to get what she wants.
The show ends with the sisters at breakfast where Kourtney accuses Kim of pretending to want to be single when she actually doesn't. Kim laments that her sister is right, and hates it.