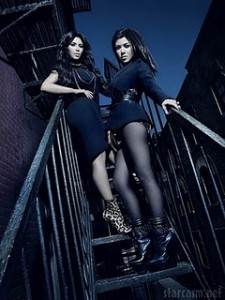 On this week's Kourtney & Kim Take New York, Kourtney shoots a guest spot on One Life to Live and Kim finds herself at odds with Momager Kris Jenner.
Kourtney's agent calls with an offer to do a guest spot on One Life to Live. Having loved the show as a kid, Kourtney is excited…until she receives her script. What she thought was going to be 2 lines turns out to be pages of dialogue with a kissing scene, and she's not too thrilled.
Scott is getting ready for a big product launch event at a club, and Kim offers to attend, waiving her appearance fee, as a show of family support. Kim's Mom and manager Kris is in town and is not pleased to learn that Kim promised Scott she would appear. As her manager, Kris'concern is that Kim's presence would be misconstrued as an endorsement and could conflict with other contracts she has in place. Kris reminds Kim that functions and appearances like these should be cleared through her. Kim backs down, telling Scott she can't go. Kourtney is annoyed, chiding Kim for being Mom's puppet.
Kourtney is nervous about her acting gig and enlists some crash training from friend and actress Adrienne Bailon (former Cheetah Girl and ex-girlfriend of Rob Kardashian). It doesn't seem to help at first, because on Kourtney's first day on the set, she can't focus and can't remember her lines. The next day doesn't start out much better, until Adrienne gives Kourtney another pep talk. Kourtney comes to life after that and the rest of the day is smooth. The day ends with the kissing scene and Kourtney's nerves return. When she sees how much more nervous the actor is, Kourtney relaxes and breezes through it. Everyone on the set commends her on a job well done.
Kourtney and Kim discuss the Kris situation and ultimately, Kim decides to support Scott. Kim and
Kourtney are by Scott's side at the event, which is chock full of press. Kim knows her mom will find out in a New York minute. Sure enough, the following day Kris bursts into the penthouse and confronts Kim for lying to her. Kim takes Kris on, telling her she simply changed her mind, she wanted to support Scott as he is a part of the family, just as she would any other family member. 'Family is more important than money'Kim sternly reminds Kris. Kourtney watches the show down in silence but is elated that Kim put Kris firmly in her place.
Classic line of the night? As Kim and Kourtney run though Kourtney's lines, Scott says "it's like I'm watching Brad Pitt and Tom Cruise." The season finale of Kourtney & Kim Take New York airs next Sunday, April 3 at 10pm (ET) on E! Spoiler alert: Scott plans to propose to Kourtney with a huge rock!