Just. Wow. As it turns out, American Idol is a singing competition after all – and not a showmanship contest. After everybody who wasn't a die-hard Kris Allen fan had practically given the American Idol victory to the theatrically flamboyent Adam Lambert, Allen pulled an underdog win that – in all honesty – probably could have been predicted. There can be little doubt that Adam Lambert owned the 'show' aspects of the American Idol contest, constantly making a spectacle o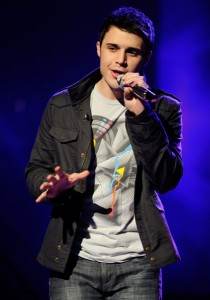 f himself with his outrageous costumes, exaggerated facial expressions, and unpredictable and unqie vocal chops, while Kris Allen towed the line as a polished musician and singer who had the looks and riffs for the mainstream.
The first sign of Kris Allen's victory was the loss of Danny Gokey. Gokey's vote are Allen votes. It is unlikely that anyone who was supporting the equally solid musicianship of Gokey would trade their vote in for the novelty of Adam Lambert, no matter how fun he was to watch. At the end of the day, America was voting for vocal talent and leaving the glam in the 80s.
The mood on the stage was definitely one of surprse. Kris Allen had clearly accepted that Adam was going to win, as a lot of us had, and even let loose a few barely accetable pseudo-f bombs that probably had standards and practices more nervous than Black Eyed P's set did earlier in the night. Interestingly enough, Simon Cowell appeared actually sullen – choosing to stay in his seat while his three counterparts gave the new American Idol a standing ovation.
Aside from the numerous musical luminaries that stopped by (Queen, Kiss, Carlos Santana, Lionel Richie, Rod Stewart, Steve Martin…), the two hour results show included the first American Idol awards, which celebrated some of the most memorable moments and people of the season. Surprisingly, the scthick was quite fun to watch and, along with the star studded guests, made the two hours breeze by. Congrats to Kris Allen, and to Adam Lambert who will still – no doubt – find stardom in the wake of this loss.