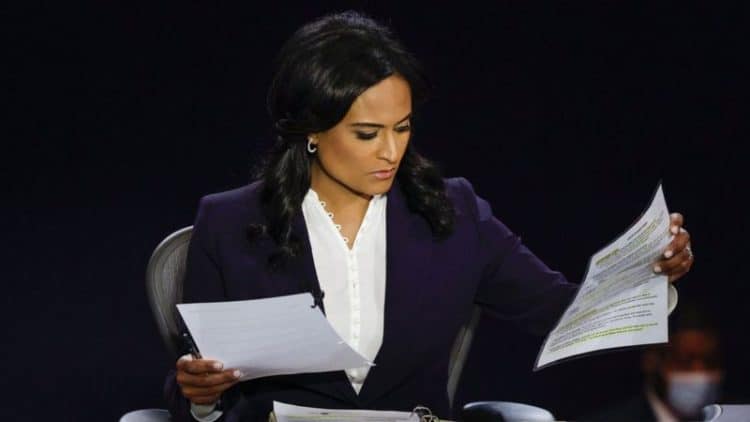 The 2020 presidential election has been one of the most intense in recent history, and Kristen Welker found herself right at the center of the commotion when she was asked to moderate the final presidential debate. Although the first debate was heavily criticized for being a free for all in which the candidates spoke over each other and repeatedly went over their time, Kristen was determined not to have that happen again. Since the debate, Kristen has gotten lots of applause for her ability to keep things under control. But while her role as a moderator is what has her in the spotlight at the moment, she's also done lots of other great things. Keep reading for 10 things you didn't know about Kristen Welker.
1. She Is The First Woman Of Color To Moderate A Presidential Debate
As mentioned before,Kristen Welker's performance as the debate moderator has been getting her a lot of attention, but what many people don't realize is that it was also a historic moment. In the entire history of the United States, Kristen is the first and only black woman to ever moderate a presidential debate.
2. She Is Not A Democrat Or A Republican
Having the ability to stay impartial is an important quality to have when moderating a debate. After all, the goal is to ask both candidates the tough questions and not single one person out because you agree or disagree with what they have to say. With that being said, one of the things that's so interesting about the fact that Kristen has become part of 2020 presidential election history is that she isn't registered as a democrat or a republican.
3. She Is A Philadelphia Native
All of the Philly residents out there will be happy to know that Kristen is a proud native of the city. She was born and raised in Philadelphia and attended high school at Germantown Friends School. Her mother is a real estate agent in the area and her father is an engineer. Kristen currently lives in the Washington D.C. area.
4. She Has An Ivy League Education
Kristen is a graduate of Harvard University where she earned a bachelor's degree in history and graduated with honors. Before graduating, she earned an internship at the TODAY Show where she eventually became a researcher for the weekend edition of the show.
5. She Loved Maya Rudolph's Impression Of Her On SNL
Kristen was portrayed by Maya Rudolph in the Saturday Night Live skit of the second debate, and she couldn't have been any happier about it. Kristen said, "Maya Rudolph is my favorite, so it doesn't get any better than that, and it was just a fun skit all around."
6. She Has A Very Close Relationship With Her Mother
Mother/daughter relationships are a very special thing, and Kristen has been blessed to have a great one with her mother, Juliet. Kristen told Mariah's River, "My mother, Juliet Welker, is my biggest supporter, my best friend, and my greatest inspiration. The most important lesson she taught me was to be believe in myself. My mother is living proof of the power of that lesson."
7. Her Instagram Account Is Private
There are probably countless people who have searched for Kristen on social media since the debate, but unfortunately for those who wanted a glimpse into her life, her Instagram account is private. It's unclear whether or not the account was private prior to the debate.
8. She Is Happily Married
There was once a time when Kristen had given up on finding true love, but those days are behind her now. In 2017, Kristen married John Hughes in a beautiful ceremony in Philadelphia. The couple began dating in 2014 and since they both have very busy schedules they had to think of some creative ways to spend time together.
9. She Always Wanted To Be A Journalist
By the time Kristen was in 6th grade, she knew that a career in journalism was what she wanted for her future. In junior high, she began writing an advice column for her school newspaper. Her interest only continued to develop as she went on to high school and college.
10. She Hopes To Help Other Women Of Color In Her Field
As a woman of color Kristen knows first hand how difficult her industry can be. Now that she has achieved success, she is reaching back to help other WOC who are coming behind her. She hopes to use her experience to become a mentor for those looking to establish themselves in the news world.