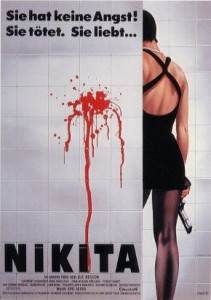 Gossip Girl, 90210, America's Next Top Model, and La Femme Nikita. Clash much?
The CW has picked up a pilot order for a revamped version of the 1990 cult classic French film and the TV series that followed on the USA Network that starred Peta Wilson in the signature role. The premise followed the exploits of a drug addled criminal after she is caught and rehabilitated into a top assassin by a top secret organization. The film starred Anne Parillaud and was written and directed by Luc Besson.
The CW version would feature the now rogue Nikita and the new assassin who is in training to replace her. No word if this show will follow the 1997-2001 USA Network series in continuity or will follow the movie instead.
This version of the now classic tale will be produced by McG and his Wonderland Productions label and Warner Bros. McG will also be an executive producer alongside Peter Johnson (episodes of Bones) and Craig Silverstein (K-Ville), who will both write and produce the show.
I'm looking forward to this version as I missed the USA Network take on the Luc Besson movie. What about you guys?
Source: THR