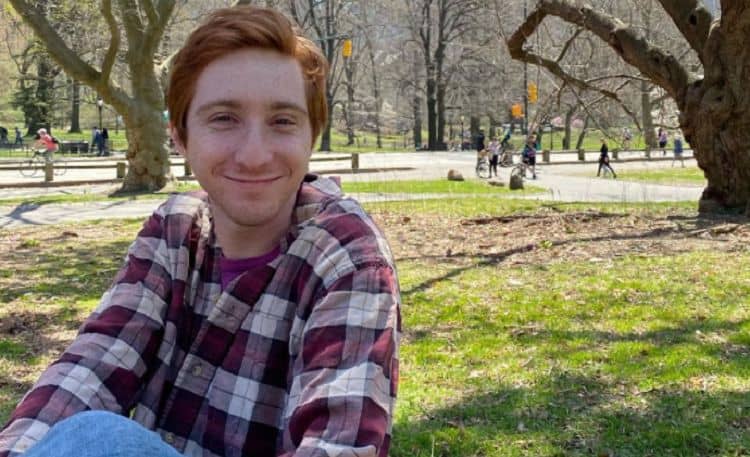 Larry Saperstein has been acting since he was a little kid, and it was obvious to anyone who saw him that he was working with an above-average amount of talent. After finding lots of success in the theater world, Larry got his first big on-screen opportunity when he was cast as Big Red in High School Musical: The Musical: The Series. Now an official member of the Disney family, Larry has become an overnight star and he's building a solid fan base full of people who love his work. Although he doesn't have the longest list of TV credits at the moment, High School Musical will likely open the door for more things in the future. Here are 10 things you didn't know about Larry Saperstein.
1. He Comes From A Creative Family
Many creative people have sad stories about how their parents were disappointed at the idea of them not wanting to pursue a traditional career. Fortunately, that wasn't the case in Larry's household. Both of his parents are performers,  and they passed that love down to their son. They have been his biggest supporters since day one and continue to stand by him every step of the way.
2. He Loves The Outdoors
Larry genuinely loves what he does, but that doesn't mean that he wants to spend all of his time in a studio or on a stage. When he gets free time, he loves being outdoors and enjoying the beauty of nature. Whether he's going for a hike or sledding with friends, Larry is all about getting some fresh air.
3. He Studied At Pace University
Lots of actors who start their careers at an early age decide to forego a traditional college experience. Larry, however, decided that he wanted to attend college. He went to Pace University where he majored in design and production for the stage and screen. He graduated in 2020.
4. He Can Tap Dance
Acting isn't the only way Larry has expressed his love for performing. He is also a trained tap dancer. When he was younger, he was a member of the Tap City Youth Ensemble. His tap dance training has come in very handy in his role as Big Red in High School Musical. 
5. He's A Private Person
Most of us are used to knowing more than we'd like to about people in the entertainment industry, but Larry doesn't plan on getting caught up in the world of oversharing. So far, Larry has remained pretty private about his personal life. As he gets older and spends more time in the spotlight he may decide that he wants to share more.
6. He's A Director
Acting has been Larry's primary focus over the last several years, he has plans to eventually start telling his own stories from the other side of the camera. According to his website, Larry is a director although we weren't able to uncover and directing credits for him just yet.
7. He Hopes To Make It To Broadway
Larry got his start in theater and he already has a good amount of theater experience under his belt. One of his ultimate goals is to eventually make it to Broadway. With the things he's already accomplished, being part of a Broadway production seems well within the realm of possibility for him.
8. He's Always Been A High School Musical Fan
Larry was born in 1998 which means he was nowhere near high school age when the original High School Musical was released. That, however, never stopped him from being a fan. During an interview with Talk Nerdy With Us, Larry said, "I remember forcing my mom to put the second movie on tape the night it came out, because we weren't going to be home. And then she let me stay up well after midnight to watch it. I also remember being mad at her because she told me that she liked the first movie better than the second. HSM 2 is better and I will still stand by that."
9. He's A TikToker
In 2021, having a strong online presence has become an important part of the entertainment industry, this is something that Larry understands full and he has worked hard to build a strong social media following. On top of being active on Instagram and YouTube, Larry has a TikTok account that has six million likes.
10. He Was The Last Main Character Hired For High School Musical
The audition process is always a little stressful, but Larry's High School Musical audition was especially intense. Larry told Talk Nerdy With Us, "My audition process was a little hectic, because I was the last main cast member hired. They were about two weeks away from when they needed to begin shooting the pilot…"