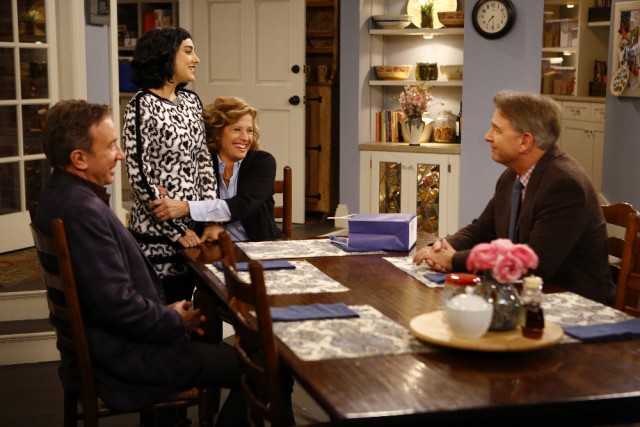 Now, if you were to ask a friend who doesn't watch Last Man Standing, what would they say about it? They would make an off-hand comment about the laugh track or the conservative jokes, right? This episode, if it were the only one they ever watched, would confirm those stereotypes. I still think this is a great show, and that this was a funny episode. But, it's hard to make the argument that this show is more than comedy for Christian Republicans using only this episode. But, I think I can and I will try, anyway. More people should like this show.
This week on Last Man Standing: Kyle and Mandy want to get married at the Baxter's church, but they're worried about going through counseling with the new pastor. So, Mike advises Kyle to use he and Vanessa as an example. Of course, that backfires. Meanwhile, Eve is working on a government assignment that teaches her to argue the opposite side of an issue, so she seeks the help of the only liberal she knows: Ryan.
It sounds like pretty stereotypical sitcom, and admittedly, it falls into some of those traps. The marriage counseling plot was riddled with predictability. The funniest parts came entirely because of Kyle's sweet idiocy, and they completely mishandled having Bill Engvall as a guest start. Bill Engvall is a hilarious guy, and he just didn't fit well into the episode. But, surely, more "here's your sign" jokes could've been worked in somewhere. Especially with a guy like Kyle.
Even though the marriage plot was riddled with tropes, there was still some merit to it. Mostly, Mike and Vanessa standing up for their own marriage. Marriage is ridiculed and over dramatic in today's television landscape, particularly in sitcoms, but Last Man Standing portrays marriages as realistic, and to be defended. Of course, there are still plenty of marriage jokes, but the spirit behind them is less cynical. I really appreciate that about this show, and that was highlighted in "The Marriage Doctor".
As I indicated above, many people who don't watch the show often would write it off as "conservative". There is precedent for that, as there are lots of "Thanks Obama" and "Please not Hillary" jokes, among others. However, this episode reminds us that the show is not hostile toward the liberal viewpoint, but rather, they are catered to a conservative audience. I really appreciate that they have someone like Ryan on the show, who can live with a family of conservatives and still show respect and be shown respect. His point this week was simple: Debate is about civility, and he's not wrong about that.
As always, here are some of my favorite quotes/moments from the episode:
"What's so terrible about Paris?" "It's in FRANCE!"- Mike's a true blue American
"He's like a smiling satellite dish with a ponytail" – Spot on description of Kyle
The whole conversation about Kyle and his father figure, Gumball the pig.
"I've been researching liberal positions. I googled 'how to talk out of your ass'"- Eve
"Kind of a crappy debate stage. What is this, MSNBC?"- Eve
"Can I get you something to drink? Wine? A wafer?"- Mike clearly doesn't have pastors over much.
All in all, this was still a funny episode. It fell into some traps and probably wasn't the best it could've been. But, it was still nice to see Bill Engvall, and stayed true to the show I've come to love over the past five seasons. Next week's season finale should be a good time.
What did you guys think? Did you enjoy the episode? Let us know in the comments!
Last Man Standing's Season Finale airs Friday, April 22nd at 8/7c on ABC.
Last Man Standing Season 5 Episode 21 Review: "The Marriage Doctor"
Summary
Mandy and Kyle stress about their marriage counseling, and seek Mike's help, in this week's Last Man Standing.