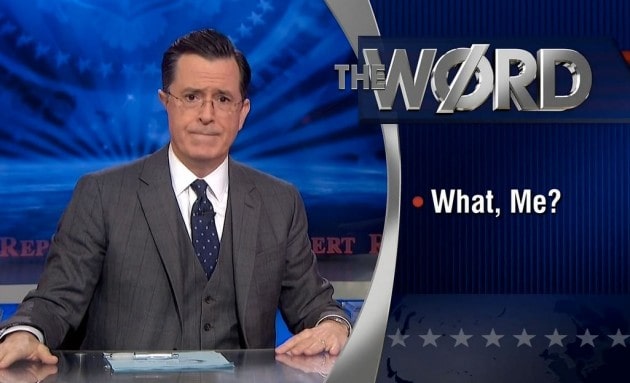 Last night was the series finale of Comedy Central's The Colbert Report, and as was to be expected, it was a can't-miss event filled with celebrity cameos from the likes of Jon Stewart, James Franco, and even Santa Claus himself. Although Colbert began the final episode of his show discussing Syria, the "news" segment of the finale episode didn't last very long and was quickly followed by one last edition of Cheating Death with Stephen Colbert in which the host actually killed Death himself, the Grim Reaper. It was weird, wacky, and totally insane; put simply, it was everything I loved about The Colbert Report during its run.
Like The Daily Show, which airs a half-an-hour before it at 11 p.m., The Colbert Report used humor to comment on the political issues facing our country at the moment and the, most of the time, idiotic ways that cable news covers these topics. However, unlike Jon Stewart, who is known more for his realer and harsher critiques and straight-up rants about what's happening in the world around us, Stephen Colbert played an over-the-top caricature that went out of his way to agree with most outrageous of opinions. Did I enjoy the commentary that Colbert provided through the ridiculous antics of the character that he created?  Yes, I did, very much so, but  I looked less at Colbert for information and more for comedic relief–the crazy weirdness of his series was always what I looked forward to, not what he had to say about the most recent election or his thoughts on the ineffectiveness of Congress.
And maybe that's because the wackiness of The Colbert Report completely jived with my sense of humor: the random events (such as when Colbert allowed for a couple to get married on his show during the government shutdown), the countless cameos (which, in that same wedding episode, included appearances and performances from Mandy Patinkin and Audra McDonald), and Colbert's ability to somehow amp up the already very present absurdity (this Oreo gay pride segment being one of my personal favorite examples). It all combined together for one of the greatest TV comedies of all-time, and the best part was that we got four episodes of it every week.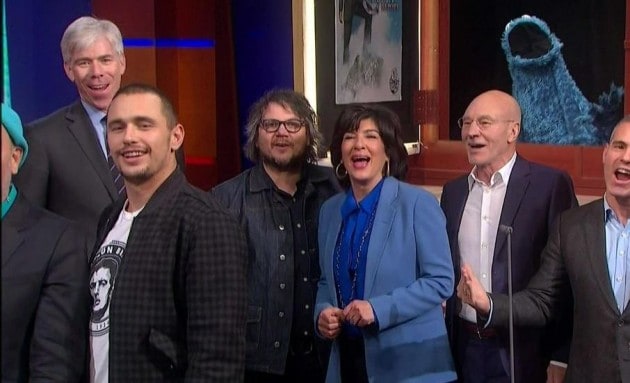 So I wasn't surprised but I was satisfied with how The Colbert Report ended its run last night, with its suddenly immortal host leading a parade of awesome celebrities (seriously, he had both Bryan Cranston AND Big Bird in attendance) in a singing of "We'll Meet Again" before heading off into the starry night on Santa's sleigh with the red-suited man himself, Abraham Lincoln (who we discovered was a unicorn), and Jeopardy host Alex Trebek. The only thing that I wish we could have seen was one more epic dance party (unfortunately, I can't find the "Get Lucky" Colbert Report video anywhere online right now), although maybe it was for the best that we didn't get one; sequels are rarely ever as good as the originals.
So now we wait until Stephen Colbert graces us with his presence on TV again as The Late Show host on CBS, a position he won't hold till the fall of next year most likely, after David Letterman wraps up his run this coming May. But as excited as I am for Colbert and even though I think he'll do great as the host of the famous late-night talker, I can't help but already miss The Colbert Report and the character he played for nine years on the series, and I can only hope that CBS is as encouraging of Colbert's goofy but brilliant sense of humor as Comedy Central has been. Until we find out next fall, last night's series finale was a fitting farewell to TV's one of best comedies and a nice "see ya soon" to one of America's greatest comedic talents.
Photos via Comedy Central