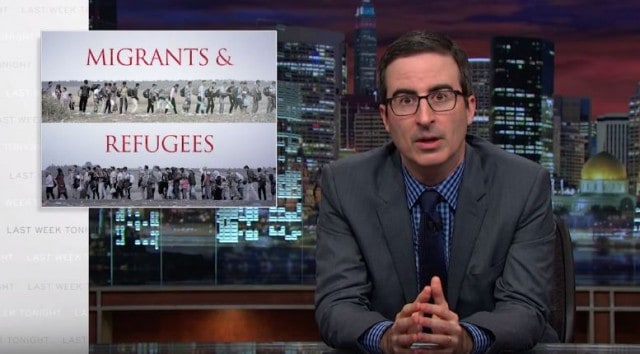 With so much misinformation regarding the Syrian refugee crisis in Europe being spread around the world, John Oliver decided to shed some light on the topic last night on Last Week Tonight.
Oliver combated many of the fears that people have regarding these migrants (that they are lazy, that they are terrorists, etc.) with cold hard facts, while illustrating just how poorly so many countries in Europe have treated these individuals after all the struggling it took for them to actually get there. In fact, one shocking clip showed a camera operator in Hungary actually kicking several refugees, including a couple of children. She later apologized, stating that "I'm not a heartless, racist, children-kicking camerawoman," which led Oliver to say that must mean "she's a loving, accepting children-kicking camerawoman cause the children-kicking part isn't really up for debate anymore."
Additionally, Oliver took some shots at a recent FOX News segment and even made a joke regarding the incredibly large audience that watches NCIS: New Orleans. However, the best moment from last night's Last Week Tonight came when Oliver reunited Days of Our Lives' EJ and Sami (played by James Scott and Allison Sweeney), as the two soap opera stars helped the host not only continue to share important points but also make a young refugee girl's day.
So what exactly do I mean? It's too good to spoil here. Check out the video from Last Week Tonight below to see what I'm talking about.
[Photo via YouTube]