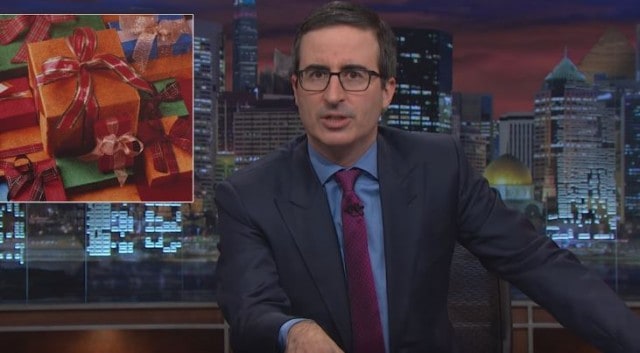 Last Week Tonight may be on hiatus until February, but that isn't stopping John Oliver from dishing out some helpful holiday advice before Christmas. When giving gifts during the holiday season, it can be difficult to decide what to get someone, and you may end up regifting a past present that you've received. However, when regifting, there are a couple of important guidelines that one should follow, all of which Oliver touches on in the video below.
In this web exclusive from Last Week Tonight, Oliver discusses the dos and don'ts of regifting during the holidays. He describes how you might find yourself in a regifting situation (you were given an incredibly underwhelming gift by a friend or someone in your family, which happens at least once during the holiday season) and how to best pawn off that present to someone else without arousing suspicion (make sure the person you're regifting to doesn't know the individual who gave you the original gift, personalize the present with a card or a note but also keep whatever you write somewhat vague, etc.).
As Oliver breaks down what one should and shouldn't do when regifting, he pokes fun at everything from scented candles to sweatpants. He also makes sure that you'll never look at a stuffed animal the same way again (you've been warned).
Check out the video below and be sure to tune in to Last Week Tonight when it returns to HBO in February.
[Photo via YouTube]