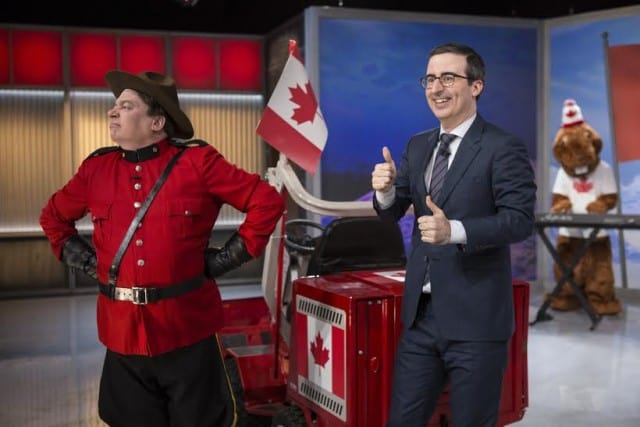 During last night's episode of Last Week Tonight, John Oliver turned his attention towards the Canadian election that is actually taking place today, giving Americans a breakdown of who exactly is running, what their political positions are, and why it's important. Oliver poked fun at the many ridiculous local politicians in Canada, including one who was caught on camera urinating into a cup in a family's home, before getting serious and explaining the many controversial views of the country's current prime minister, Stephen Harper.
However, when it came time to telling Canadians exactly why they shouldn't vote for Harper, Oliver needed a little bit of help to make his plea to voters in "the most Canadian way possible." That's why he not only had a beaver playing "Sweet Caroline" and a moose getting a colonoscopy "under Canada's fantastic single-pay healthcare" join him but also enlisted the assistance of Mike Myers, dressed as a Monty and riding a snow plow. And even though they were making a clear point about why Stephen Harper is the wrong choice for Canada, Oliver and Myers still had time to make a fun joke about the actor's uncomfortable moment with Kanye West years ago during NBC's benefit concert for victims of Hurricane Katrina.
Check out the video of Oliver and Myers on Last Week Tonight below, and let us know in the comments if you think there's anything they could have done to make their message even more Canadian.
[Photo credit:Â Eric Liebowitz/HBO]