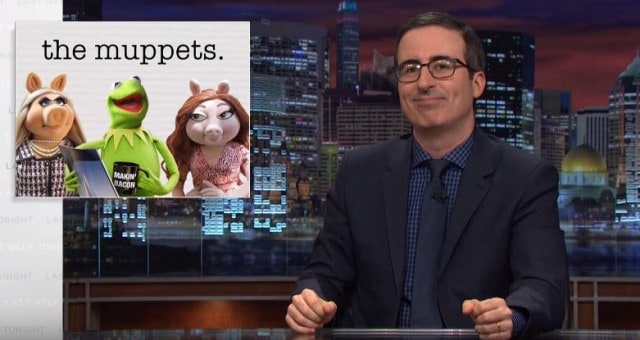 John Oliver typically tackles dark and troubling topics on Last Week Tonight, but last night's all-new episode of the HBO series proved to be a somewhat lighter affair, as Oliver took on the problem with pennies in America. And while it may sound like an inconsequential issue (why and how could pennies ever be a big deal?), Last Week Tonight proved just how nonsensical it is for us to continue producing and using the coins, since they actually cost more to make than their worth.
As Oliver points out in the video below, pennies are still worth one cent in the United States but actually cost 1.7 cents to make; that means that we spend nearly $136 million a year to make $80 million worth of currency that no one actually uses. As Last Week Tonight reports, two-thirds of pennies don't circulate, but the coin still stays around. It's something nobody really wants or needs, which is why Oliver compares it first to the appendix before then likening the penny to ABC's The Muppets. "How is this still on?" he asks, before highlighting the major problem with the new Muppet series.
However, The Muppets isn't the only TV show that Oliver goes after. He also pokes fun at The Cosby Show in a truly hilarious way and cracks jokes about Guy Fieri and Daniel Day-Lewis. And even the infamous president that Day-Lewis played (and whose face is on the penny) isn't spared in this segment, as Oliver also makes fun of President Abraham Lincoln, including one joke about him and his wife, Mary Todd Lincoln, that's so ridiculous that it's too good to even tease.
Check out Oliver's rant about pennies, The Muppets, and much more from Last Week Tonight's Season 2 finale below. And be sure to tune in to watch the show on HBO when it returns in 2016.
[Photo via YouTube]