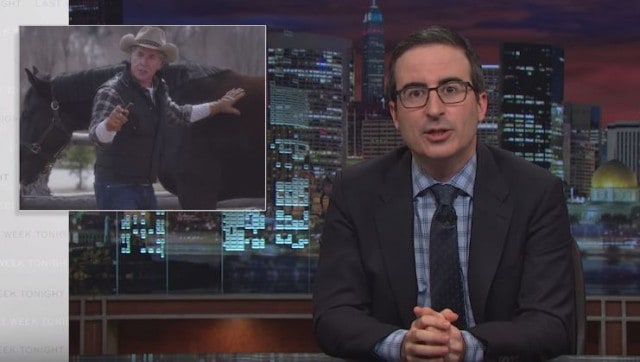 In last night's episode of Last Week Tonight, John Oliver turned his attention to North Dakota, a state that prides itself on being a friendly and welcoming place for business. However, that attitude, while perfectly fine in theory, isn't very effective when dealing with the state's booming oil industry, which (as shown in the clip below) is harming the environment and killing workers.
In an almost 20 minute-long segment on last night's show, Oliver highlighted the many real issues with North Dakota's oil industry and how and why individuals in the state should be upset and call for reform. As Oliver explains, the ruining of North Dakota land and the deaths of its people aren't rare instances anymore; instead, these major spills and tragic accidents are becoming much too common.
However, despite the serious subject matter, Oliver, as he always does on Last Week Tonight, is able to illustrate his points through a strong combination of research and humor. Throughout the segment, the host cracks jokes about Channing Tatum, frozen yogurt, and Willy Wonka and the Chocolate Factory. However, his best jabs are at ABC's new Sunday night drama Blood & Oil (which fell in the ratings to a dismal 0.8 last night, up against football, postseason baseball, and The Walking Dead), including a couple of particularly hilarious comments about Don Johnson.
Check out the clip from Last Week Tonight below:
[Photo via YouTube]