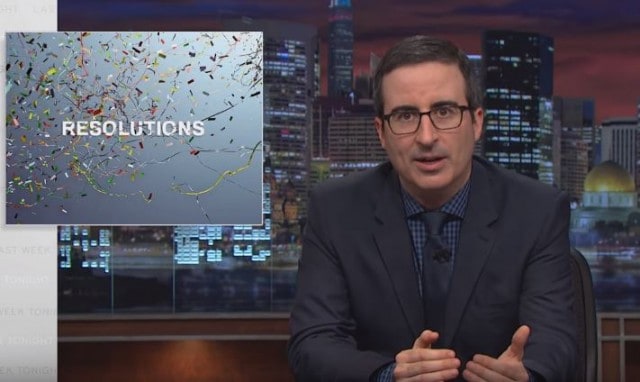 While Last Week Tonight currently on a break, with no new episodes airing on HBO right now, that hasn't stopped John Oliver from giving advice about certain holiday topics, such as the proper way to regift presents you don't want. And although Oliver doesn't discuss Christmas gifts or decorations in his latest video, he does speak the truth about another holiday staple: New Year's resolutions.
In this web exclusive from Last Week Tonight, Oliver talks about the optimism that many people possess heading into the new year, that this will finally be the time where everything works out for them, where life becomes the way they want it to be. Part of that optimism is the resolutions that people make for themselves….before they break them just a week later.
So how can be we make better New Year's resolutions that won't leave us so disappointed? Oliver has a few suggestions about how one can revise their goals for the year, so that they're more easily met or so difficult to achieve that no one could possibly blame you for not succeeded. Whether they're big or small resolutions, there's one thing they most definitely won't be: disappointing.
Last Week Tonight is currently on its winter hiatus, and as Oliver reveals in the video below, it returns to HBO with new episodes beginning on Sunday, Feb. 14, following the two-hour series premiere of the network's new show Vinyl. Check out the video below, and be sure to comment with your revised New Year's resolution.
[Photo via YouTube]